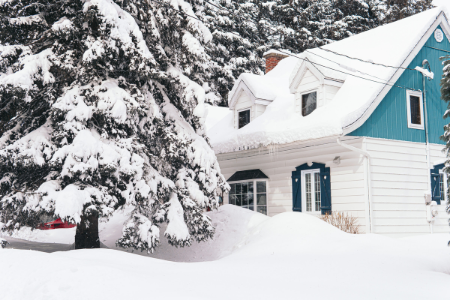 Often considered the most magical time of the year, winter can be a tough season for any kind of obligation. Relocating can get messy on any regular day, let alone during a snowstorm or cold day. Luckily, we have some tips to tackle some difficulties of moving during winter.
Watch the weather
If you're relocating during winter, it's important to watch the weather forecast. Although weather can change quickly and unexpectedly, you can try to monitor as best you can and plan to move on a day that is reporting a high percentage of no snow or ice.
Prepare the gear for moving during winter.
You can minimize all the risks by preparing the necessary gear. This mostly applies to the transportation vehicle for you and your belongings. Some things you may need are:
Tire chains
Aid kit
Shovel for snow
Tow rope
Resilient window wipers
Warm clothes and blankets
In addition, you should take steps to protect your belongings better. A great way of securing your items during the winter move is using plastic containers instead of cardboard boxes. This will stop any water damage to your belongings from melting snow or ice.
Rent storage for valuables
If you own fragile items, it might be best to store them for the time being. You can either have them delivered by a reliable moving company or get them yourself once the weather has settled down a bit. 
Make sure that your new home is prepped
It's not fun preparing your home for a winter storm. It's also almost impossible if you're just moving into it. Therefore, you need to cover the basics at least. Although moving into a house with disconnected utilities isn't that big of a deal during the summer days, don't let it happen in winter.
A well-heated home should be your number one priority when moving on winter days. Ensure that everything is good and ready, not only on the day you're moving in but a few days prior if possible so the home has time to heat up.
Running water is a close second on the list of utilities essential for winter moving. If the water flow is cut off for too long during the winter, you'll have to deal with frozen pipes.
Clean driveway and sidewalk
If the snow has covered your driveway, you'll have a hard time getting to your home. If possible, come a day early and clean everything up. 
Even though design should be the last thing on your list, it's nice to wind down and think about winter decor in your new beautiful home. You can also implement a lot of practicality and warmth into it.
Stay within your budget
It's common to neglect your budget while moving during the winter season as you will likely get discounted prices. Thus, you may allow yourself to get too relaxed with your money. However, calculating your budget is an essential aspect of moving.
Hire professionals
Hiring a reliable moving crew is all the more vital if you're moving during the colder days. It's crucial to hire someone who knows what they're doing, and that's upfront about pricing. Knowing that, you should start contacting companies such as Metropolitan Movers and see how they can help you and if you want to join forces with them.
Be tactical
Not getting sucked into all the fuss that's going on around you can be pretty challenging while moving during winter. Try to minimize the out-of-control moments by pre-planning anything susceptible to change or messiness. Although you won't be able to control every situation perfectly, you'll feel much better prepared.