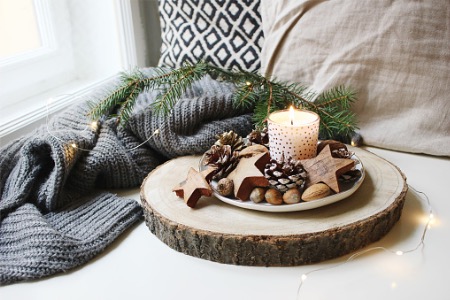 Looking to winterize your fall decor for the changing season? Here are a few tips to help you keep your personal style while adding some holiday cheer around the home!
Add Coziness
We all love to cozy up during the winter months whether it's in the living room, den or your own bedroom. A great way to transition different rooms from summer to fall to winter is to add some layers for each season it gets a little colder. Quilted blankets and fluffy pillows give the room a cozy look and are great for chilly nights. Plus there are tons of fun holiday pillows that can add color and cheer to the furniture.
Block Chilly Windows
During the summer and early fall seasons, many of us like to open up the windows and fill our home with fresh air. But when winter hits, our windows become a main contributor to cold air in the home. A great way to not only help keep the inside of the home warm but also add some winter decor to your rooms is adding window treatments. Heavy duty curtains can be a bit expensive but they are an investment that can last years if taken care of. You can also find plenty of discount retail stores that have a wide variety of options at a good price.
They are also an easy thing to switch out once spring comes around and you want to have lighter or more transparent treatments. Remember, deeper or darker colors look great for winter but can age rooms if you keep them up all year round. Try nude or white treatments for warmer seasons.
Change up Arrangements
As you might have had pumpkins and apples in your centerpieces or table arrangements to celebrate fall, you will want to rearrange and integrate some new features into those, once winter comes. Garland is always a great asset to include when decorating tables or shelving throughout the home. It gives a winter wonderland feel and adds some color. Some other things you may want to consider: frosted pinecones, red berries, twinkling lights, rustic pieces, etc. 
Arrangements are meant to show off your personal style and creativity so have some fun with it! You can make a lot of unique items or find ready-to-use products at your local craft store.
Light Up the Room
Once fall arrives, people go crazy for candles. The soft light mixed with delicious scents are great for adding an extra layer of decor to your home. As you move into winter though, candles can have a whole new use. You can still use the real ones to make your home smell like gingerbread or fresh pine, but using fake candles to add to the cozy feeling of the holidays is a beautiful and modern way to decorate for winter too! Place the candle in a partly see-through silver, gold or red holder to incorporate holiday colors. Using multiple stands of varying heights to create a lovely centerpiece or place single ones in different parts of the home to add soft light and warmth.
Warm Colors
All of these tips above can be combined with this simple and common tip. Burgundys, golds, dark greens and vibrant reds are all great compliments against the winter landscape. You can incorporate these using the blankets and pillows mentioned, centerpieces or window treatments. But you can also easily add them through small decor pieces throughout the home as well. Of course, you don't want every room to look dark and dreary so make sure you add these warm colors in with whites or nudes to compliment. Silvers or metallic pieces are also a great way to add some light and modern looks.
Whichever way you decide to create your winter wonderland home, have fun and remember, the decor is not nearly as important as the memories you make during the holiday season.