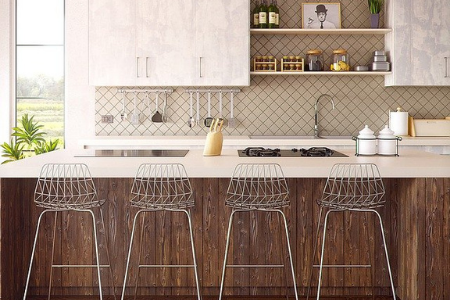 Whether you want inspiration to revamp your kitchen (and do it right!) or simply learn about what's the most up-and-coming in the realm of kitchen design, we've got you covered.
There are many kitchen design trends that spring up each year, but here we dive deep into the top four ones that are very much here to stay.
Kitchen Islands
Breakfast bars and kitchen islands are not a new trend, but they're surely here to stay. These provide a cozy spot for quick and casual dining and can also serve as a workplace with storage.
Breakfast bars, in particular, are a fusion of the dining table and the kitchen island that separate out as an ideal space just for socializing, eating and working. It's essentially a multi-purpose area that makes you more efficient and thus, it remains popular.
Many modern homes have kitchen islands with an open kitchen layout, which adds to its convenience and ease-of-use. Also, having single-level islands allows light to smoothly stream through your kitchen space.
It's also a good idea to opt for a kitchen island with a waterfall edge or overhang so as to create space for stools to tuck under the table.
Simply put, not only do kitchen islands and breakfast bars increase the intimacy of your kitchen, but they also expand its utility and valuable cooking space.
Brass Accents
2017 was arguably the year of copper, but in 2021, kitchen spaces are going back to their vintage roots, with bold brass accents making a definitive comeback.
Brass hit its peak in the '80s and is now again a trending choice in cooking areas thanks to its warm, classy appearance and ability to age like fine wine.
The lustrous alloy blends well with a variety of finishes, presenting a warm contrast to cooler materials like chrome or stainless steel. Brass adds a nice dazzle to the kitchen, and an elegant accent to cabinets, faucets, fixtures and even appliances.
Brass is no longer an antique-looking material — it now comes with sleek, subtly shiny finishes that look unique. For the best impression, let your brass accents be the center of attention in your kitchen by setting them against all-white or neutral surroundings.
RTA Kitchen Cabinets
Having a neat, efficient and appealing cooking area is not a trend — it's something that everyone wants. And kitchen cabinets contribute significantly in making that desire a reality, as they occupy nearly half of your kitchen's wall space.
Traditional kitchen cabinets are costly, and there has been a growing trend of going DIY with ready to assemble (RTA) cabinets. This is a trend that's here to stay, as RTA cabinets are extremely cost-effective, functional and easy on the eyes.
As end products, RTA kitchen cabinets aren't that different from the usual cabinets — the only difference is that they come in a kit that contains everything you need (step-by-step, easy-to-follow visual instructions with tools and materials) for the final assembly.
While you have to invest some time and manual effort in assembling the cabinets, there are plenty of reasons why RTA cabinets are a growing trend:

Huge cost savings with zero compromises in quality.
A wide variety of options in terms of colors and designs, such as pure white thermofoil, sleek veneers, exotic hardwoods, you name it.
Minimalistic look-and-feel and highly durable.
You can also opt for an environmentally-friendly design to decrease your carbon footprint and at the same time add a more contemporary look to your kitchen.
Sustainable Flooring
Sustainable design in many aspects of home design— including kitchen flooring — is fast increasing.
Sustainable flooring is essentially about minimizing VOC (Volatile Organic Compound) and your carbon footprint. Such flooring is made of natural and renewable materials that have been produced with minimal damage to the environment, and it also minimizes the release of toxins and constitutes a healthier cooking area.
Now, hardwood floors have always kept kitchens warm and cozy, and that won't change anytime soon. But while traditional hardwood is a biodegradable material, you can't name it "eco-friendly" as it results in a lot of deforestation.
However, if you opt for recycled hardwood, you're going green with your flooring choice, as the recycled version reuses existing wood from trees that were cut down years ago, and is obtained from old buildings, landfills, barns, decks and so on. Thus, with recycled hardwood, you're not contributing to more deforestation.
But based on your taste and kitchen styling, you also have other sustainable flooring options, such as:
Bamboo: A beautiful and durable alternative, it shares similar traits to hardwood. It's hygienic, affordable, easy to install and maintain.
Cork: For a unique and contemporary look, cork is a great sustainable flooring choice. It's shock-absorbent and comfy to walk on, insect-repellant, fire retardant and durable.
Linoleum: Made of all-natural materials, linoleum is a classic flooring material that's durable (can last for up to 40 years), water-resistant, fire retardant and easy to maintain.
So, to jump on the sustainability bandwagon, you have plenty of eco-flooring options today that are also good-looking, cost-effective, and functional.
Wrapping Up
Trends come and go, but bowing to their aesthetic and utilitarian value, the ones outlined above are here to stay — and worth investing in for your kitchen remodel.
Please follow and like us: