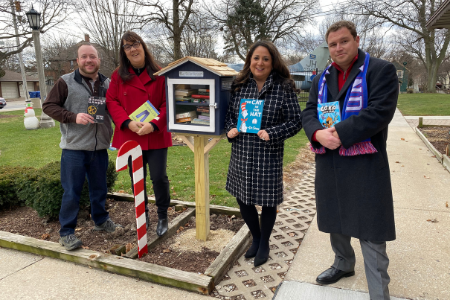 The Little Free Library has arrived at Memorial Park and Hart Park in Blue Island thanks to the generosity of the Mainstreet Organization of Realtors, local REALTOR® Maribel Salgado-Little with Realty Executives Elite and Board of Director for Mainstreet, and in partnership with the Blue Island Park District, Thomas Wogan, Executive Director, Blue Island 2nd Ward Alderman, Fred Bilotto, and 6th Ward Alderwoman, Raeann Cantelo-Zylman.
As a REALTOR® Maribel is passionate about giving back to the community she grew up in and serves by helping many of her clients sell and buy real estate locally. She wants to inspire every child and adult to enjoy the love of reading by increasing access to books for readers of all ages and backgrounds by fostering a community book exchange. The Little Free Library is a free book-sharing box where anyone may take a book or share a book. It functions based on the honor system. You do not need to share a book to take one.
More than 30 million adults today in the United States cannot read or write above a third-grade level. Through the "FREE" Little Library we can put books it the hands of young children to have a meaningful impact on improving literacy levels later in life. Did you know scientific studies show reading is good for your brain? Reading can introduce you to innovative ideas and invites you to solve problems. It makes you a better writer. It helps you improve your conversational skills, strengthen worldview and convictions. Increases your knowledge of history and cultural knowledge. It can also challenge your imagination, increase your skill in an interest, inspire you and aids in reducing stress. The need for a "FREE" library is greater now than ever before, especially for families who do not have access to books.
Through the community library we can make a substantial impact and Mainstreet Organization of Realtors and Maribel Salgado-Little, local REALTOR® are proud to sponsor the program by increasing access to books and encouraging a lifelong love of reading. We invite the Blue Island community to stop by and visit the Little Free Library at Memorial Park and Hart Park. There are about 50,000 Little Free Libraries around the world in over 70 counties, and now Blue Island can stake its claim on the map of libraries.