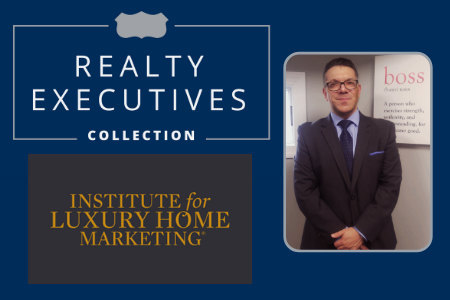 Broker/Owner Matthew De Fede of Realty Executives Elite Homes in Nutley, NJ, recently completed the Luxury Home Marketing training offered by The Institute for Luxury Home Marketing, the premier independent authority in training and designation for real estate agents working in the luxury residential market.
The training builds expertise and skills to serve affluent clients in local markets. Throughout his real estate career, De Fede has continued to build his portfolio with ongoing education and certifications. The completion of this focused training also provides De Fede with membership into The Institute for Luxury Home Marketing, giving him access to exclusive resources used to successfully market luxury residential listings and find qualified buyers for high-end property in the Nutley community.
"Institute members represent the most qualified and skilled luxury real estate professionals in their respective markets," said Diane Hartley, President of The Institute. "They understand the unique needs of high net-worth individuals when it comes to listing and selling luxury estates and have access to an extensive network of successful luxury agents made possible by The Institute."
De Fede has been in real estate since 1998 and specializes in New York City buyers, marketing homes in his unique way which exposes the properties to buyers across the country.
"The training provided me with insight on how grander, luxury homes have the best chance of being sold." De Fede said. "It introduced me to new marketing techniques, and provided valuable networking contacts with other agents who specialize in luxury from around the world."
To contact Matthew De Fede or Realty Executives Elite Homes for more information please visit https://www.realtyexecutives.com/agents/matthew-defede.