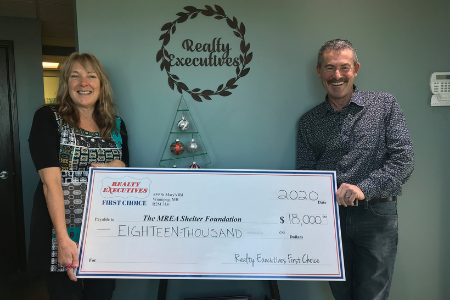 Realty Executives First Choice, of Winnipeg, MB, has raised and donated a total of $18,000 this year, for the Manitoba Real Estate Association (MREA) Shelter Foundation. The donations will be used to support various Manitoba shelter-focused non-profits.
The MREA Shelter Foundation was founded in 2007, with the mission to raise money and support for charities helping Manitoba community members receive shelter. Throughout its existence the foundation has raised over $945,000. Realty Executives First Choice became involved with the charity in 2009. All money raised was given directly by brokerage Executives, many donating a percentage of their commission throughout the year. Shona Scappaticci, Broker Associate of First Choice, is a board member of the MREA Shelter Foundation and is thankful for all the support her fellow Executives have shown.
"During a year when many places are struggling to find the help they need, our Realtors really showed up." Scappaticci said. "I'm honored to be a part of this foundation and the work we do, and I'm even more honored to belong to a group of colleagues that understand the importance of giving back."
Realty Executives First Choice has a total of 32 Executives who serve the greater Winnipeg area. The brokerage has been involved with several other local charities, including: Habitat for Humanity, Siloam Missions, Canadian Diabetes and others. Realty Executives International is proud to represent a team of passionate and hard-working professionals, committed to their community.
"Realty Executives First Choice is a great example of how our brokerages value their communities and understand the importance of home." Alysia Heun, Vice President of Realty Executives International said. "They work together not as competitors but as a family rooting for each other's success and supporting each other's causes, ultimately making Winnipeg a better place for everyone who calls it home."
To learn more about MREA Shelter Foundation or how you could get involved, please visit https://mreashelterfoundation.com/.