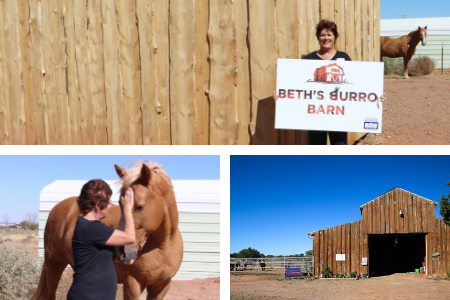 Finding the perfect home is already a challenge, but finding a home that can host several horses, donkeys and minis, may be one the hardest finds. That was the challenge Beth Williams of Realty Executives White Mountains faced when she was hired by Christine Griffin, founder of animal sanctuary, Equine WellBeing Rescue.
In 2012, Williams was hired by Griffin to find a property that had a family cabin along with shelter and land for the equines that were going to be cared for throughout the seasons, all at the right price. Understanding Griffin's passion for animal rescue and the importance of their mission was key to Williams having the determination and expertise to search northern Arizona for the right home.
Equine WellBeing Rescue was founded in 2006 by Griffin in San Diego, CA before moving the non-profit to Snowflake, AZ for more affordable housing and resource costs. The equine rescue is a 501c3 public charity that provides loving rehabilitation, nursing, and hospice care for equines at risk, waiting for adoption, or with medical needs. Additionally, the charity provides community support by offering an emergency equine food fund for those in need of short-term assistance caring for their animals. They continue to work with regional, state, and national rescues to assist during disasters or emergencies while working with law enforcement agencies to help find homes for neglected or abused equines. Equine WellBeing Rescue is 100 percent volunteer based.
Continue reading