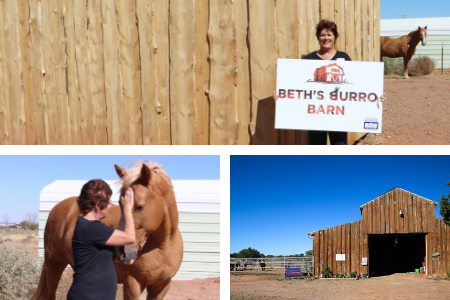 Finding the perfect home is already a challenge, but finding a home that can host several horses, donkeys and minis, may be one the hardest finds. That was the challenge Beth Williams of Realty Executives White Mountains faced when she was hired by Christine Griffin, founder of animal sanctuary, Equine WellBeing Rescue.
In 2012, Williams was hired by Griffin to find a property that had a family cabin along with shelter and land for the equines that were going to be cared for throughout the seasons, all at the right price. Understanding Griffin's passion for animal rescue and the importance of their mission was key to Williams having the determination and expertise to search northern Arizona for the right home.
Equine WellBeing Rescue was founded in 2006 by Griffin in San Diego, CA before moving the non-profit to Snowflake, AZ for more affordable housing and resource costs. The equine rescue is a 501c3 public charity that provides loving rehabilitation, nursing, and hospice care for equines at risk, waiting for adoption, or with medical needs. Additionally, the charity provides community support by offering an emergency equine food fund for those in need of short-term assistance caring for their animals. They continue to work with regional, state, and national rescues to assist during disasters or emergencies while working with law enforcement agencies to help find homes for neglected or abused equines. Equine WellBeing Rescue is 100 percent volunteer based.
With the help of Beth Williams, Equine WellBeing Rescue has saved more than 200 horses, donkeys and minis over the last seven years. Williams is an active volunteer for the non-profit; not only donating but through action; Williams built a three-sided shelter to help keep donkeys out of the elements so they can stay safe and warm. The shelter is affectionately named "Beth's Burro Barn".
"Beth was the perfect Realtor for us," Griffin said. "She understood our needs and passion for this charity, finding the perfect barn and cabin for our family. We are thankful to have worked with such a professional and experienced agent, who in turn became a great friend."
Williams began her real estate career in 2002 after moving to Show Low, AZ, where she lives with her husband. She has been consistently honored as an Executive Club member since 2012, an industry award given by Realty Executives International. Realty Executives White Mountains serves PineTop, Show Low and surrounding northern Arizona markets.