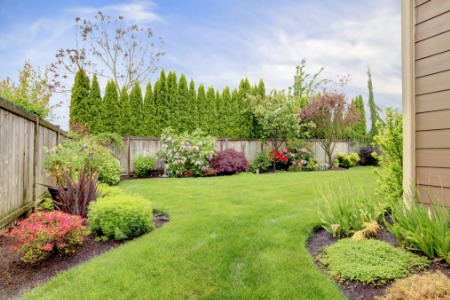 Harsh winters can be tough on your yard, and can leave them looking a mess-dead grass and plants, damaged shrubs, trees and more. Your yard could be so damaged that you consider drastic measures, such as hiring different people and companies to fix up your yard again. Luckily, there are easier ways to revamp your yard after a hard winter and they don't require you to spend as much money. 
Fertilize the yard and replace grass
After a long and cold winter, your grass can be looking flat and brown, which calls for a lot of tending and caring. The best way to help your grass to look luscious and lively again is by supplying it with the nutrients it needs to do so. Luckily, this is an easy task that you can complete on your own. Fertilizer supplies the nutrients that grass needs to flourish.  By following the directions on the fertilizer you buy, you'll have your grass looking green and full of life in no time. 
A harsh winter might also cause damage beyond repair to your grass. If this is the case, there's no need to replace the grass in your entire yard – just focus on the few dead patches. Replacing dead grass is a very simple task you can accomplish on your own. Simply dig out the dead grass then purchase sod to replace it. Be sure to buy matching sod, because a mismatched yard will not look appealing. 
Water and weed
Fertilizing grass and replacing dead grass patches are only one part of revamping your yard. Another crucial part to prepare your grass for spring and summer is watering it. Fertilizing grass can only get you so far and water is essential if you want your grass to be vibrant green and lively. It's best to give your yard one inch of water a week in the morning. Don't exceed one inch a week, because it will drown your already struggling grass. 
Now is also the time to take action against weeds. Pull out any remaining weeds as soon as possible. It's also a good idea to use an herbicide on your yard, which will kill any seeds before they turn into weeds. 
Clean up the yard 
It's likely that during the winter, harsh winter weather caused dead leaves to gather in flower beds, branches to break off shrubs and trees and other damage to your yard. Luckily, this is a very easy fix. Just grab a couple of bags and start cleaning up your yard. Comb through flower beds and clear out any dead leaves, branches or flowers that might have gathered there during the winter and do the same around shrubs and trees. 
Prune and Plant
Before cleaning up your yard, go through and prune any shrubs and trees that need it. Look for any overgrown branches. Prune these to make your shrubs and trees look neat again. Also find any branches that got broken by harsh winter weather. It's important to prune these broken branches, because without doing so, new growth of these branches won't be able to happen. 
After pruning, find the plants that have died and need replacing. Replacing plants is an easy task you can accomplish on your own by going to a local plant nursery and picking out new replacements. If you don't have any shrubs, trees or flowers that need replacing, it's also a good idea to plant some new, additional flowers around your yard as well to make it look even more appealing. 
Keep it maintained 
Lastly, once all your hard work is done revamping your yard, it's extremely important to keep it maintained. Your yard can easily get out of hand, resulting in an unappealing, overgrown yard with dead grass – even during the spring and summer. Be sure to regularly prune and trim your plant and don't forget your yard care. Skipping one week of watering your grass might not end well, which is why maintaining your beautiful yard is important and the only way to keep it looking beautiful.