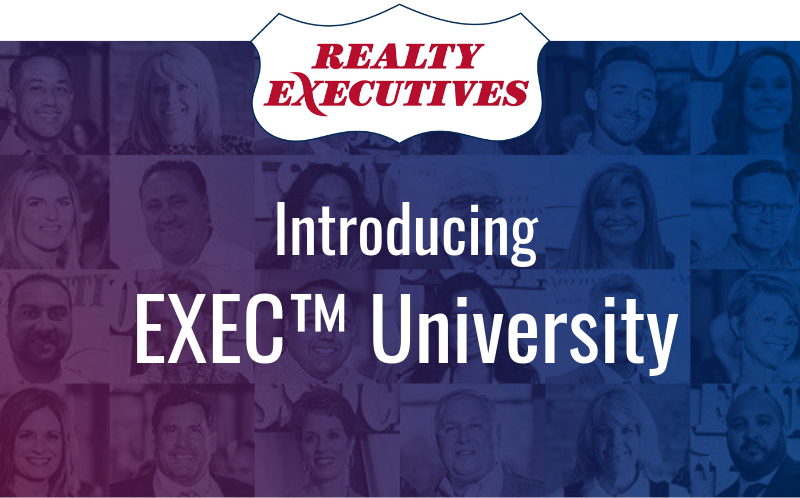 Realty Executives International, one of the nation's leading real estate companies for over 50 years, is excited to announce the launch of its signature agent training program, EXEC™University. EXEC™University is a unique training program laser-focused on propelling real estate agents to the next level in their careers, featuring a free, on-demand training library crafted to increase agent efficiency and productivity.
EXEC™University offers a broad range of training topics, enabling agents to focus on areas they wish to grow and can assist anyone at any level in their career – from new agent to seasoned agent/advanced sales training, admin training, team training and leadership training. This one-of-a-kind program offers a wide array of proven training content by the founder of Excelleum Coaching and Consulting, Debbie De Grote. EXEC™University training was developed based on agent feedback and includes the topics that interest them most, like the following:
Perfecting your repeat and referral opportunities

Dominating a geographic farming area

Implementing proven digital marketing strategies

Sharpening your presentation skills with sales linguistics

Tapping into the luxury market

Leadership training, team building and structuring
"Agents and Brokers are attracted to a brand that cares about their success and with EXEC™University, we're able to deliver proven training resources and create an environment of high-quality professionalism that attracts the best in the industry," said Realty Executives International Vice President, David Celaya. "By tapping into our network of highly productive and collaborative agents, we continue to gather and package the most successful sales and marketing opportunities, making this valuable content available to our entire Realty Executives family."
Another unique feature of the training program is that it collects continuous feedback from Realty Executives' network of highly successful agents to continuously identify new sales and marketing tactics and incorporate it into the training.
"I believe the brokers and Executives will be impressed and thrilled," said Doug Radford, Regional Developer and Broker/Owner of Realty Executives Exceptional Realtors®. "EXEC™University is a tremendous added value. I have not seen anything like it from any other real estate company."
About Realty Executives Intl. Svcs. LLC
Established in 1965, Realty Executives International is one of the largest and most established real estate franchise systems in the world, with over 8,000 agents and 500 offices globally. The company offers disruptive pricing models particularly attractive to top performing agents. Its unrivaled mobile technology, business tools, training and concierge service are coupled with protected territories and financing for qualified franchisees. The Scottsdale-based, privately held company has been ranked as a leader in the real estate industry by publications like Entrepreneur, Success and Inc. magazines. For additional company information visit http://www.RealtyExecutives.com.