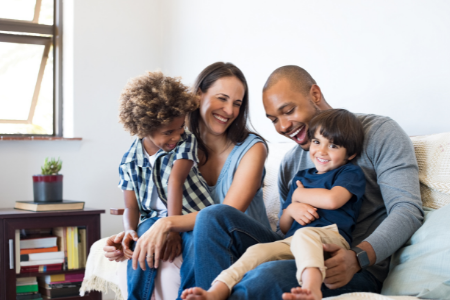 The Centers for Disease Control and Prevention says that about 9.2 million children have to visit the emergency department for an unintentional injury each year. Unfortunately, the CDC also states that injuries are the leading cause of death for children in the US and Canada, too.
Children are curious, easily distracted, and more prone to injury than adults are. So, it's important to take extra precautions to keep them safe, even in the home.
Thankfully, most of the accidents mentioned in the CDC's research are preventable with the right approaches to safety. Here's what you need to know to minimize risks and make your home a safe and hazard-free space for kids.
7 Steps to Make Your Home Safer for Kids
1. Secure Your Windows
You may love your windows for the fresh air and light they let into your home. But alas, they can pose a major danger to your children. Windows present a range of hazards for younger family members, ranging from falling to window cord strangulation, and more.
You can prevent window falls by adding locks and window guards to all windows on the second and third stories of your home. These measures are more effective than window screens, which are designed to keep insects at bay but not to prevent a child from falling. It's also recommended that you avoid placing children's beds, furniture, cribs, and sofas near windows.
Roller, accordion, or shutter window coverings are the safest options for families with younger kids as they don't have cords that can cause strangulation. If you have cords, cut them as short as possible, or put them out of reach of your children. You can use a retrofit kit to keep window cords attached to the wall so that your kids cannot play with them or become entangled accidentally.
2. Prevent Unexpected Falls
While windows are a primary falling hazard in the average home, they certainly aren't the only one. Falls are the leading cause of non-fatal injuries in children, so it's crucial to improve your home safety and reduce your kids' risk of falling wherever possible.
You can start by adding guards and bumpers to children's beds, and, if necessary, select low profile furniture. Use anti-slip maps at the shower and bathtub, and wall-mount safety gates at the tops and bottoms of staircases. Avoid accordion style gates which can trap children's necks and heads!
Whenever you place a child in a highchair or another piece of furniture designed specifically for them, use all the safety mechanisms and traps included by the manufacturer. Always keep your eye on them when they are on or near a tall surface in your home and be sure that you are close enough to catch them should they inadvertently fall.
Child Proof the Furniture in Your Home
The sharp edges and hard materials of most pieces of furniture can pose all kinds of unwanted injury risks to children. You can make your home's furnishings safe for your kids by taking a few simple steps, starting with anchoring large pieces of furniture like bookshelves and TV stands to the wall. This will prevent them from falling over and onto a playing child if it gets bumped or climbed on.
Next, remove all objects that may tempt your kids to climb tall pieces of furniture and reach high shelves. Store snacks, treats, toys, and books within their reach, or stash these items away in a locked cupboard if necessary. Replace your old box TV with a lighter flat screen model that's mounted to a wall or TV stand out of your children's reach.
Avoid purchasing glass-top furniture, which can easily break and lead to dangerous lacerations and other emergency injuries. Finally, add edge and corner bumpers to furniture at child height, such as nightstands, coffee tables, and counters, to protect your kids from running into sharp edges.
4. Cover Electrical Outlets
Electric shock is a severe and potentially deadly injury to younger children, and it must be avoided at all costs. This is simple enough to do.
Purchasing and fitting plastic coverings to your electrical outlets will prevent your children from trying to stick utensils, toys, and curious fingers into them. Additionally, take care not to leave power cables plugged in while not being used. If you're charging your laptop while working on an online project or need to charge your phone, don't leave these devices, their chargers, and plugs unattended, either.
5. Use Doorknob Covers and Locks
The interior and exterior doors, sliding doors, and cupboard and cabinet doors of your home should all be child proofed. This will protect your kids and prevent them from entering rooms and storage areas in which they could be in danger.
Doorknob locks and covers can bar your kids from opening doors without your knowledge and wandering onto the balcony or into the front yard. It also stops them from entering hazardous areas like a storage closets containing sharp gardening tools or cleaning products. Locks are also essential in securing the pool area from children and pets.
6. Lock Medication Cabinets
You should always store medication and medical supplies out of reach of children. Kids could easily mistake pills for sweets and ingest them. Store your medications in high-up, locked cabinets and hide the key in a location only you know about.
Never leave your medicine unattended on a surface that your kids can reach, such as a nightstand or kitchen table.
7. Create a Strategically Safe Play Zone
To keep kids entertained and safe during playtime, design a safe and hazard-free play area for them. When setting up their playground equipment, like play sets and trampolines, ensure that these items are far away from walls, trees, power lines, rocks, and other objects and surfaces that could cause harm.
Trampolines are a major cause of injuries to children, and should be fenced or netted to reduce accident risks. Keep your trampoline properly maintained and follow all manufacturer safety measures when setting it up.
Some homeowner's insurance carriers will cover play sets and trampolines, so check with your insurer to ensure that you have cover for accidents and injuries.
Prevention is the Best Option
It's natural to expect your family home to be the safest place for your children, but this isn't always the case. It's essential to take the right safety precautions to keep your kids safe and prevent avoidable injuries and emergencies.
Take the steps mentioned above to secure hazardous parts of your home and keep your children happy and safe while they play, explore, and grow.