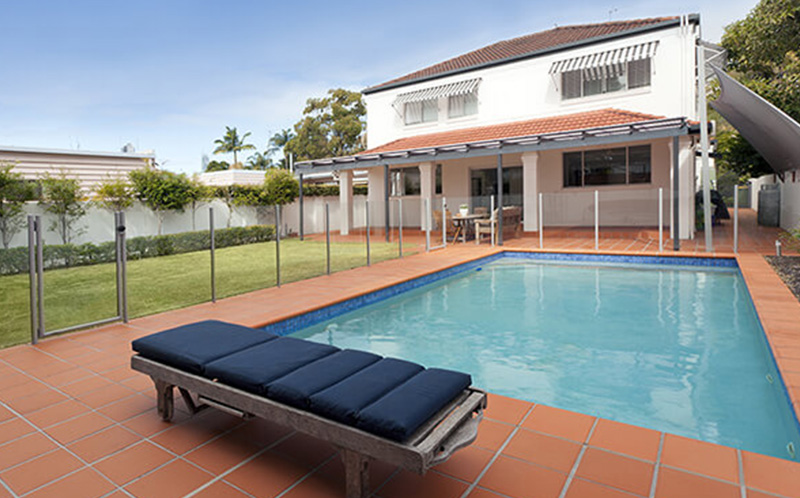 Homeowners know the value of reinforced doors with deadbolts or a comprehensive home security system. But there are many less obvious fixes to ensure your home is attractive to safety-conscious buyers in the future.
Childproof your pool
According to the U.S Consumer Product Safety Commission, nearly 300 children under the age of 5 fell victim to drowning accidents in pools and spas in 2015. This accounted for more than 75 percent of drowning fatalities reported for all children under 15.
There are several ways to protect children against the dangers of a pool. A pool gate is a stronger barrier to childproof your pool than a traditional cover. Any pool barrier or fence that is at least four feet high with a childproof gate lock can help prevent accidents.
Update your detectors
Most people know they need to keep their smoke detectors with fresh batteries. But do you have enough detectors? Or the right ones?
The National Fire Protection Association recommends detectors in each sleeping area and each level of the house. Another lesser-known detector to keep updated is a carbon monoxide detector. Good for five to seven years, a traditional carbon monoxide detector alerts you of a leak of the odorless and potentially fatal gas.
There are a wide variety of options for smart smoke and carbon monoxide detectors for your home, if you are looking to upgrade.
Take a closer look at your home's landscaping
Landscaping can give your home curb appeal, but homeowners should be wary of shrubbery that puts their home at risk. Be aware of high trees that can damage your home during a storm. Keep trees regularly trimmed to reduce this risk.
Although no plants are 100 percent fireproof, the United States Fire Administration has some tips on how to keep landscaping from being a fire hazard around your home including choosing fire-resistant plants such as currant, sumac, or aloe; trim grass down to prevent a small fire from spreading; and create fire-safety zones within your landscaping with patios or decks to help reduce fire risk.
Work on your windows
Windows are one of the most common access points to a home for burglars. Keeping them safe and secure can be a boon for you living in the home and also for any future buyers.
If you can't afford to replace your windows, clear security window film can be installed by a professional and adds more security to your home with little inconvenience.
For added security, beef up windows with locks that are visible to burglars. These pin locks aren't expensive to install and can prove a powerful deterrent.
This post is intended for informational purposes only and should not be taken as professional advice. The point of view and opinions expressed in this post do not necessarily reflect the position of Realty Executives International.
Please follow and like us: