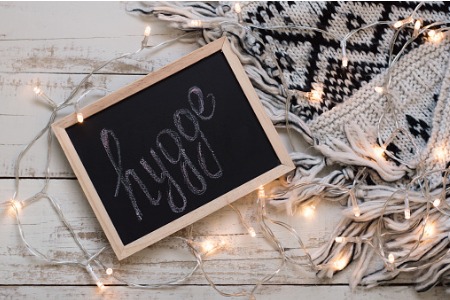 Moving in the winter can be tough, but coming home to an empty or show-ready house can make short, cold days and nights even harder. Enter hygge, a Danish principle that brings comfort and contentment as the essentials to create enjoyment during winter. Pronounced "hoo-ga," it began as a lifestyle to help make Northern European winters more enjoyable, but has evolved into a style trend in recent years. There are some simple and easy ways it can add touches of it to your space without adding more stress to the sale and moving process.
Hygge is all about creating a feeling, atmosphere and ambiance of relaxation by surrounding yourself with cozy things and doing activities you love. Beyond being a winter mindset, it is quickly becoming a trend for both self-care and interior design for good reason, since it can lift your spirits while also incorporating gorgeous seasonal decor.
Even during the stressful process of selling a house or working to settle into a new one, hygge can still help make the winter days pass a little smoother!
Hygge For Sale
It might seem like decking out your space with candles on every surface and comfy overstuffed pillows covering all seating would be perfect for hygge, but minimalism is actually a big part of the practice. Taking this aspect of hygge to heart lends itself well for those staging a home to sell, since during this process less is definitely more.
Pair down your accents to only what you need to make the space shine. You may have needed to put stuff in storage, so make sure you keep the pieces that can be multi-functional. Ultra soft and plush accents like pillows or throw blankets and using soft candle light while partaking in your favorite ways to unwind can still be stored easily in tasteful baskets or add small touches of decor to the room.
Even while keeping your house ready to show at nearly a moment's notice, that's no reason you can't still enjoy the space. Depending on what activities mean hygge to you, there are ways to hide them in plain sight and make them look like they belong, rather than being clutter. For example, if curling up with a book is your ideal, use the book to complete a small and tasteful coffee table display with a candle and fresh flowers. If a game night with friends is more your speed, find a space in your living area to neatly organize your games, either to keep them out of sight or to highlight any built-in storage your space features.
Make Hygge Home
While proper lighting is another important aspect of both hygge and showing a house, it can have even more impact as you settle into your new space. Proper lighting for the activities that speak to your needs is the fastest way to set the perfect ambiance for getting cozy and enjoying your new home. Once you've unpacked, leave the harsh overhead lights off and opt for softer sources like flame-less candles, string lights and task lighting like floor lamps.
Adding more stuff once you move in isn't the point of hygge, and there's no reason you should add clutter to a brand new space. Even though winter decor pairs well with this trend, hygge can also be a lifestyle throughout the year. Items that can work now and during all seasons will always be your best bet for style and your wallet, look for pieces that will serve your taste no matter what decor you feature. If you're planning on new furniture to go with your new house, shop around online for affordable sofas that can make your new space shine.
Surrounding yourself with only cherished items and those that bring you the most comfort during the winter months is the essence of hygge. Get creative with storage and ways of displaying items that add a stylish touch without adding clutter. Hygge can make pared down houses warmer for sellers to live in and help new homeowners settle into their space quickly and stylishly.
Written by Jennifer, a furniture fanatic who loves to write about the latest interior design trends. In her spare time she searches in the internet for cute dog videos and gorgeous home designs.