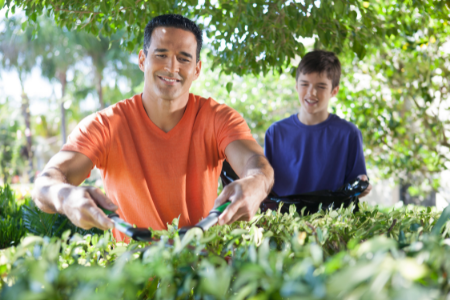 Everybody wants their yards to look perfect for the summer. And why wouldn't they? When it's warm outside, we want to spend our free time in the yard. Some people like to barbecue and entertain friends, some make a private mini park for their kids, and some create a relaxation space for themselves. So, if you want to use your yard for something like this (or something different altogether), now is the time to start thinking about it. Today, we prepared seven tips for getting your yard ready for summer. If you want to know how to make your outdoor area perfect, keep on reading.
1. Trim Dead Foliage and Mow the Lawn
Whether you plan to assemble a herb garden, a flower garden, or an all-grass area, the first thing you need to do is trim all the dead foliage. There will be a lot of it, especially if you haven't collected all the dead grass, branches, and various debris piled up from autumn and winter. You can use garden scissors or a hand trimmer for this task. When you are done trimming, move forward with mowing the lawn.
2. Bring the Furniture Outside
If your yard is big enough for throwing parties, then it's likely you have a lot of outdoor furniture. So, what are you waiting for? Bring it out of storage. Outdoor furniture such as chairs, tables, deck chairs, and parasols are a must when throwing outdoor birthday parties, get-togethers, etc. Or, if you've just moved into a new home, use the opportunity to throw a housewarming party. Alfresco housewarming get-togethers are a perfect way to have fun outside, meet new neighbors, celebrate the new beginning, and show off your new yard
3. Invest in Some Nice Mood Lights
One of the best tips for getting your yard ready for summer we can give you is to invest in some lovely, good-quality mood lights. They make everything look better. You can hang them on your patio, under the parasol, or even on the tree. Trust us; this will make the most boring yard look like a yard from a fairy tale.
4. Clean the Deck
Cleaning the deck is not only one of those critical spring cleaning tasks; it is a task you should do every other month – no matter the season. But it is especially important to clean it now, during summer, as this is when you will spend most of your time there. So, if you can, power-wash the deck and get rid of any debris and dirt.
5. Plant Flowers
No, it is not too late to plant flowers in your garden. It's still springtime in most areas, so you have another month or two to plant whatever you want in your garden – flowers, decorative plants, herbs, trees, bushes, and even fruits and vegetables. If you live in an area with hot summers, look for full-sun plants that are drought tolerant.
6. Consider Adding Water or Fire
If you really want to elevate the look of your garden (and to make your neighbors jealous), you can consider adding something extra to your yard. For instance, that could be a water fountain or a fire pit. Even if your yard is not large, remember that you don't have to get something huge and expensive – even small decorative items of this kind will do the trick. This way, you will maximize your small garden space and make it fun for everybody.
7. Repaint the Fence
Never underestimate the power of a fresh coat of paint. Paint changes everything. So, even if you have an old, rusty fence around your home, a little bit of paint can transform it and make it look brand new. And, if you want your property to look really nice, match the fence color with the color of your facade. With this simple trick, you will have no problem getting your yard ready for summer.
---
About the Author: Jenny Collins is a stay-at-home mom of three who loves writing content for her blog. The topics she covers vary from cooking and organizing to gardening and remodeling. In her free time, she enjoys long walks with her dog.