If you're disappointed with the size of the garden in your new home, or you're considering a property and the only downside is a small outdoor area, there are plenty of things you can do to turn even the tiniest garden into a perfect green escape to relax in.
In this article, we cover some simple ideas for maximizing your garden and creating the illusion of more space.
Use Pots and Planters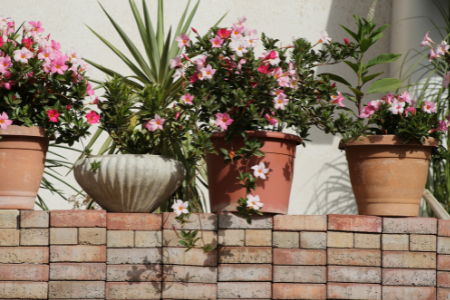 If you don't have space in your garden for proper flower beds, use planters, containers, and plant pots instead. It's a simple way to add some plants into your outside space, and you can easily move them around when you want to change things up or create more room. Potted plants will also work well to brighten up a balcony or patio.
Plants are easier to care for when they're in containers, and they're less likely to get overgrown as the pots can restrict their growth. If you go for a few big pots and planters rather than lots of smaller ones, it will prevent your garden from feeling too busy and cluttered.
Take Advantage of Vertical Spaces
Even the smallest gardens will have some vertical space that you can take advantage of. You can hang rows of potted plants along your walls or fences, add hooks for hanging baskets, or even hang some plants from tree branches. It's a good way to create more room for plants without taking up more of your limited ground space.
Tiered planters are also a good way to add in additional plants if you don't want to drill hooks into your walls. You can even turn a wooden pallet or an old ladder into a planter perfect to display some trailing plants.
Climbing plants are a nice alternative to several, smaller individual plants. Things like clematis and climbing roses will grow up a trellis and can easily cover up a wall or fence, making your garden greener. There are plenty of fruit and vegetable plants that will climb as well!
Keep It Simple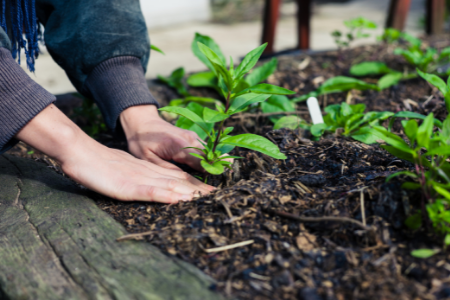 Don't get carried away trying to grow tons of different plants that require high levels of care and attention. Choose ones that are easy to grow so that you don't need multiple gardening tools or equipment that take up extra space.
Start by improving the soil in your garden so that your plants can thrive without too much maintenance. For example, clay soil can be slow to drain. Most plants struggle to thrive without proper drainage. You need to know how to amend your soil and find something that helps to conquer and repair it so that your plants have a better chance to grow.
When your soil is in near mint condition and ready to plant, things like sunflowers, marigolds, and dianthus are good choices. They'll make the garden bright and colorful but also grow upright, maximizing space. Avoid wide-growing plants and bushes that are going to crowd the area.
Divide the Space
It might seem counterintuitive to break a small garden into even smaller areas, but it can make it appear larger. If possible, divide up your garden into two sections using a trellis or a hedge. You can make one area patio space or lawn space with chairs for relaxing while filling the other half with flower beds and planters. You'll find that because you can't see the whole garden all at the same time, it can create an illusion of more space.
Adding a second level with decking can also add more interest in a small garden and often works well to make it seem more spacious
Pick Garden Furniture to Suit Your Space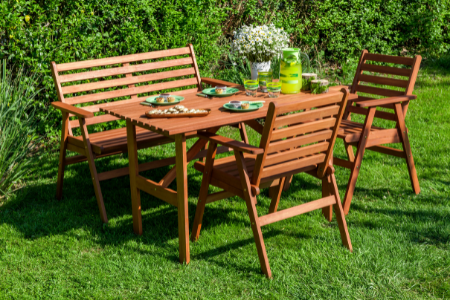 When space is limited, you need to choose the right garden furniture to fit in your garden. Big furniture isn't going to work because it will make your garden feel cramped.
Choose a table and chairs that can be folded away so that you have plenty of space when they're not in use. If you need any extra seating, pick up some outdoor cushions and rugs to make the most of your floor space. A built-in bench along a wall is also a great way to add more seating that can also double as storage for all your gardening equipment. If you prefer more relaxed seating, consider a hammock. A hammock is perfect for small garden spaces and can be easily stored out of sight.
Despite its size, a small garden offers many possibilities. The key is to focus on using the area effectively. Follow these tips and you'll be able to maximize your garden and create your perfect outdoor space for relaxation and fun!