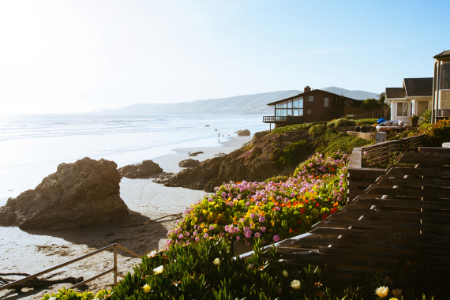 As vaccines continue to roll out and a light appears at the end of the pandemic tunnel, many people are giving themselves permission to imagine their post COVID-19 lives. For some, this means planning wonderful vacations and time away. For others, it's looking for a new spot to call home, even if only for a few weekends a year. Regardless, there's nothing stopping you from enjoying the getaways you have been dreaming about!
There are few better ways to ensure vacations are accessible on your terms than buying a vacation home. Here's a look at what you need to know to find the perfect property.
Vacation Home Buying Basics
If you've bought a home before, you're likely familiar with a fair amount of the process you can expect while buying a vacation home. However, there are hurdles you will face when buying a home outside your city or neighborhood. First and foremost, a fair amount of your searching will need to happen virtually. Unless you have the means to travel for several home viewings, you'll likely want to collect a list of potential properties and schedule one big showing day. Finding a real estate agent you can trust to search and vet properties on your behalf — narrowing your list down to viable candidates — is an absolute must on the vacation rental search.
There are several other things that will be different when buying a vacation home. For example, the lending process for second homes is typically far stricter, requiring a higher down payment, a better credit score, and a lower debt-to-income ratio. Reach out to your lender before you get started to make sure you have a sense of what you can realistically afford, as well as the types of loan options available to you.
Exploring Funding Options
Taking out a second mortgage won't appeal to everyone. Fortunately, there are other options you can use to make buying a vacation home affordable. For example, you can find a group of friends or family members willing to share the cost of the vacation home. If you go this route, we recommend that you have a lawyer draw up a formal ownership agreement so that things don't become messy or complicated down the line.
You can also buy the property with the intent to manage it as a vacation rental when you're not using it. This is a great way to fund your endeavor and make some extra income on the side, but it's also a substantial undertaking. Marketing, managing, and maintaining a vacation rental takes hard work, and you'll either need to be able to fund travel to do it yourself or pay a local rental manager to handle day-to-day tasks on your behalf.
Picking Your Location
When it comes to picking the perfect place for your vacation home, it all comes down to what kind of vacation you're drawn to. Do you want a tropical getaway? If so, somewhere beachside and warm is your best bet. How far are you willing to travel? Those looking for a beach within a short plane trip or drive have many options. Consider locations like Tampa or San Diego– an excellent choice due to its 70-mile-long stretch of beaches and the perfect opportunity for surfing, exploring sea caves, or simply relaxing on the sand. On the other hand, if you like to ski and hike, you might be best suited to a mountainous destination like the Poconos or Banff. Give yourself time to really think about what you want out of a vacation, and what sort of locales are going to offer that experience.
Even though your home is your sanctuary, you may be craving a change of scenery. Are you ready to expand your homeownership horizons? Start searching for your perfect vacation home and you'll be that much closer to whisking yourself away on the trip you've been dreaming of!