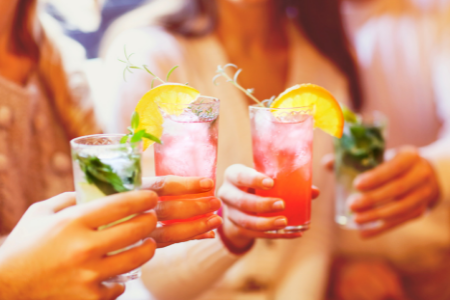 Nothing says summer like the perfect beverage. Why settle for boring seltzers or the same old beer when you can impress your guests by cooling them off with a creative cocktail or mocktail? Get your end-of-summer parties started with these easy to make recipes for drinks like mojitos, martinis, and more.
Prep Work
Before you get started, it is helpful to have a few supplies on hand. Start your mixology sessions by making sure you have a cocktail shaker and muddle. These utensils seem a little over-the-top, but they allow you to make cocktails faster and easier. When you are choosing your shaker and muddle, think about how easy they are for you to use, clean, and how many drinks you plan to make at once.
You should also keep simple ingredients around like lemons, limes, and simple syrup. Cocktails and mocktails are often better with a unique twist. Think about keeping flavored syrups and fresh herbs to add in too.
1. The Classic Mojito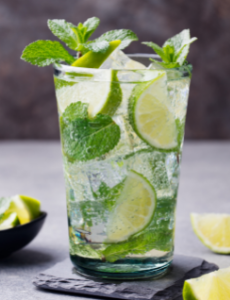 Celebrate the summer season with this classic cocktail. The mojito is perfect to transition from a hot summer day into a cool summer night. Start by muddling about five fresh mint leaves until you can smell their aroma. This should only take a few spins with your muddle! Next, add the mint, two ounces of white rum, one ounce of fresh lime juice, ½ ounce simple syrup, and a couple ice cubes to your cocktail shaker. Shake it up until everything is nice and cool. Strain your ingredients over a glass of ice and top with soda water to taste. If you enjoy mint leaves, skip the strainer.
Add your own twist: Try adding in blood oranges, grapefruit, or champagne.
Make it a mocktail: Turn this into a "nojito" by using grapefruit juice or extra lime juice instead of rum.
2. Watermelon Martinis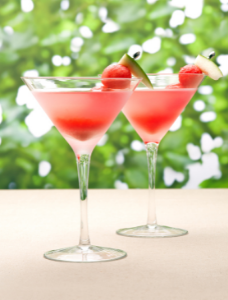 A watermelon martini is the perfect drink for the poolside. Add one cup of watermelon juice or frozen watermelon purée, ¼ cup vodka, ¼ cup watermelon schnapps, and lime juice to taste. Mix well and enjoy! This recipe serves two, so be sure to share.
Add your own twist: Try salting or sugaring the rim of the glass and garnish with a lime wedge.
Make it a mocktail: Make it kid-friendly by using lemon-lime soda and a splash of grenadine instead of vodka and schnapps.
3. Gin Basil Smash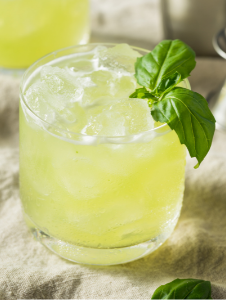 This fresh and invigorating cocktail is just like making a classic mojito. Start by gently muddling about 15 fresh basil leaves just enough so you smell their aroma. Add them to two ounces of gin, ¾ ounce fresh lemon juice, and ⅓ ounce of simple syrup. Shake, strain over ice, and relax!
Add your own twist: Try adding in muddled fresh blackberries or garnishing with fresh basil leaves.
Make it a mocktail: For fellow party guests who do not feel like drinking, use lemonade instead of gin.
4. Lavender Mint Lemonade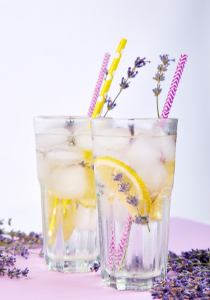 This new twist on a classic refreshment will surely impress your friends at any party, and you only need a few ingredients. Mix a few ice cubes, two ounces of vodka, four ounces of lemonade, and about ½ cup lavender simple syrup in your cocktail shaker. Shake well. Next, strain your mix over a glass with crushed iced and torn mint leaves. Top with club soda to taste.
Add your own twist: Try using flavored vodka or using fresh rosemary or basil in place of the mint. Garnish with lavender.
Make it a mocktail: Skip the vodka and increase the lemonade for a non-alcoholic option. Use club soda to lighten it up if lemonade is too sweet or acidic for your tastes.
5. Strawberry Jalapeño Mint Juleps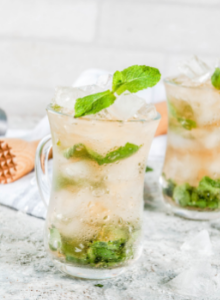 Take a walk on the wild side with this spicy drink! With refreshing strawberry and warming jalapeno, this drink is perfect for summer or fall. It takes a little extra work, but it is worth it. Using medium heat, combine ½ cup water, ½ cup granulated sugar, and 2 halved jalapeños in a small saucepan. Bring to a boil, reduce heat, and simmer for about 10 minutes. Remove from heat and let cool to room temperature. Congratulations, you just made homemade jalapeño simple syrup! Gently, muddle a few fresh strawberries and fresh mint leaves together, and add them to your favorite cocktail glass. Pour in two ounces of bourbon, one ounce of jalapeño simple syrup. Finish it off with a little ice and soda water to taste.
Add your own twist: Garnish with thin slices of jalapeño for flair or increase the fruitiness by adding blueberries.
Make it a mocktail: Use lemonade or strawberry soda instead of vodka to make this spicy drink alcohol-free.
A Note About Simple Syrup
Our favorite recipes used simple syrup often, especially in place of granular sugar. Simple syrups stored correctly can last for up to three months, making your drink-mixing job easier. Now that you know how easy it is to make simple syrup, try getting a little more adventurous! Think about making several kinds to mix with your cocktails for a truly unique taste. Flavors like rosemary, vanilla bean, ginger, and hibiscus pack a real punch to summer drinks. You will keep everyone talking way after the season is over!
As always, be sure to always consume alcohol responsibly. Enjoy the remainder of your summer safely!