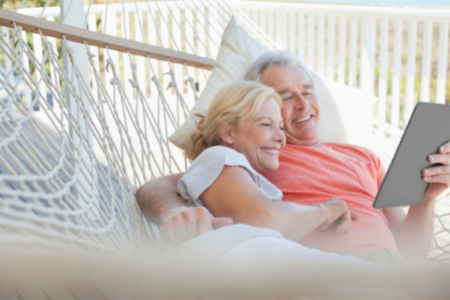 There is nothing like enjoying a summer breeze on a beautiful day. So, why not relax in a hammock? They do not require any special skills or tools to set up and come in a lot of different styles and colors. Plus, they are environmentally friendly. However, we have all seen the hammock disaster videos online, and you may find yourself apprehensive to try out this classic summer trend. Do not worry! Setting up and enjoying a hammock is a lot easier than it seems. Read on for tips to help you select and hang your perfect hammock for summer-long relaxation.
Choose the Right Size
There are two sizes of hammock widths: single and double. Single hammocks usually have widths of four to five feet and have a weight limit of about 400-500 pounds. A double hammock usually has a width of about five to six feet and has a weight limit of around 500-600 pounds. Most people enjoy double hammocks because it gives you a better sleeping experience and the opportunity to hang with a friend. Single hammocks are a great option for campers and hikers because they are lightweight and save space.
Unless you are extremely tall, you do not need to worry about the length of your hammock. Keep in mind that your hammock should be at least two feet taller than you are, and that seems to work for most people.
Think About the Fabric
Choosing the right hammock fabric for your environment is important because you want to make sure you aren't too hot or too cold. Consider these choices to help decide which hammock is right for you:
Rope Hammocks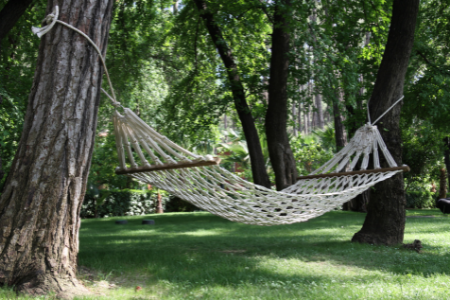 Rope hammocks are perfect in climates that are warm all year around. The knitted rope offers a great way to enjoy a beautiful breeze on a lazy Sunday. Rope hammocks come in a variety of materials, styles, and colors. While cotton rope hammocks are a little more comfortable than polyester rope hammocks, polyester is much more resistant to mold and mildew.
Fabric Hammocks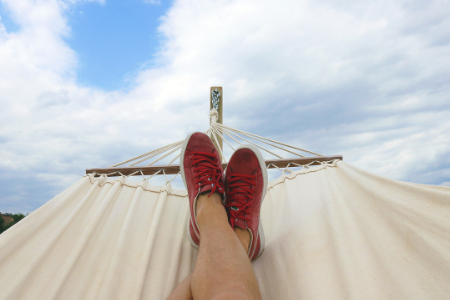 These hammocks are best enjoyed in cooler climates because they do not offer as much air flow as rope hammocks. They are very durable and work well with blankets and pillows. They also come in a variety of colors and patterns! These are the right hammocks for late night stargazing!
Camping Hammocks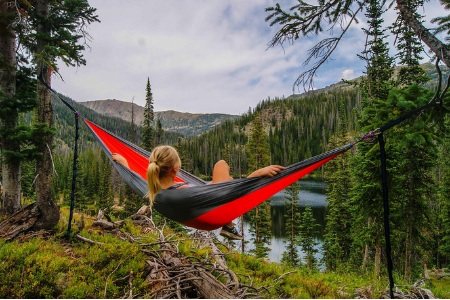 Camping hammocks offer the best options for versatility. They pack-up and set-up with ease, are washable, lightweight, and can be enjoyed almost anywhere there are adequate trees. Not to mention, they are priced for every budget. You do not have to be camping to enjoy these hammocks, either. They make a perfect companion to picnics and family days at the park.
Hammock Swings and Chairs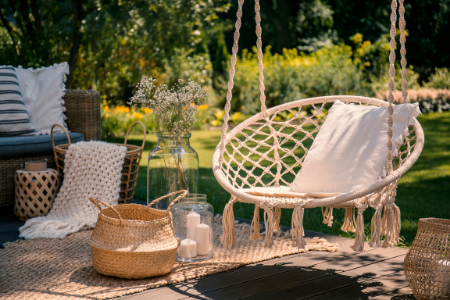 These novel hammocks can fit one or two people! Even though they are sometimes a little awkward to get into, they are the perfect way to read a book on a sunny day or chat on the phone with a friend!
Get the Right Suspension System
You cannot use your hammock without hanging it up. So, finding the right suspension system is essential to enjoying the ultimate summer nap. Take note of the two supports located at the head and foot of your hammock. Check to see if they need a certain kind of base or anchor. Most hammocks can be hung with hammock stands, posts, trees, and more. Just be sure they are the appropriate length apart and can withstand the right amount of weight. Remember to be kind to mother nature; never screw or hammer your hammock suspension into a tree.
The best way to know if you have achieved superior hammock suspension is to check to see if you are at least 18 inches off the ground while you are inside it. You should be able to easily slide in and out of your hammock without becoming a viral sensation.
Choose the Ideal Hammock Location
While lying in the summer sun seems like the ideal way to spend the day, you need to think about your skin. It is no secret that peak sun hours can be dangerous for your skin. Unless you plan on slathering on the sunscreen every two hours and wearing a gigantic summer hat, think about putting your hammock in part or full shade.
How to Lay in a Hammock
Believe it or not, there is a right and a wrong way to lay in a hammock! Most people instinctively lay in a hammock lengthwise. However, most experts believe that lying diagonally in your hammock is the most comfortable. Lying diagonally in your hammock is said to allow your spine to straighten and reduce strain on pressure points. You will also be able to rock and sway easier too.
A Word on Safety
Hammocks are one of the best ways to enjoy a beautiful day. However, small children should never be left unsupervised around a hammock, because they could fall or get caught between the ropes.
Be sure to place your hammock in a safe location. For example, sleeping over water may seem super relaxing, but it is actually very dangerous. Also avoid setting up on hills and rocky terrain.
Relax and Enjoy Your Lazy Summer Day
Not only can you choose a hammock to suit your style and environment, you can make it even better by adding pillows, blankets, and side tables for things like your phone and fun summer drinks. You can even consider adding hammock accessories like bug nets so you can enjoy your hammock 24/7.
Here is to the summer breeze and endless summer hangouts!