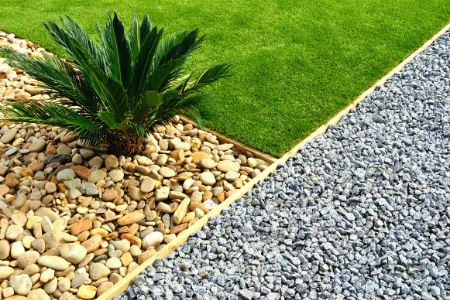 In the recent years, multiple studies have shown that landscaped homes sell at a higher price than similar homes with poor landscaping. Today this is more accurate than ever, with home sales figures rising 13%, depending on the extent of the renovations to the yard.
Homeowners are developing their backyards and front yards, and the house clean-up boom is driving that engine. However, deciding what to do on your property can be a difficult decision.
Let's learn more about what improvements are beneficial to increase your home value.
Less Lawn
These days low maintenance grass saves on time and upkeep. Look for a strong buffalo grass that, once established, doesn't require much care. Alternately, artificial grass is becoming increasingly popular. Add to the aesthetic by opting for paving or ground covers, all depending on your sense of style.
A new trend includes installing planting beds with wide borders that contain shrubs and low-care perennials. The planters draw interest into your yard while keeping things vibrant.
More Trees
There are few home improvements that appreciate over time, the exception being trees. Experts confirm that planting trees at an early stage tends to be better for the long-term investor. If you are looking to sell in four to five years, it may be best to invest in a larger, more mature tree to get the total effect.
Outdoor Rooms
A covered patio, a patch of gravel, a dining area, a dry-laid patio, or an above-grade deck are classified as outdoor rooms. If you install a landscaped patio, the value of your property could increase by 12.5%.
You could consider a play space for your kids that includes an oversized sandbox. Be sure to use bird netting to cover it. The netting keeps little critters out while the sun sanitizes the sand naturally.
Backyard Sanctuaries
One exquisite feature to include in the yard is water. A fountain or a small pond could be installed for you by MGCDecks or other local companies. Professionals handle the job with etiquette and passion, creating the ultimate landscape feature for clients.
On a smaller scale, adding a simple terra cotta pot and a water pump can help to add some extra value to your home. Additional key features include cozy places to relax and sit down.
Full Outdoor Kitchens
Outdoor kitchens have become quite the fad lately and can include sinks, grills, and refrigerators. If your kitchen area is extensive and includes higher-end brands, you can increase your property value significantly. Everybody loves an excellent backyard status symbol, and this is one way to do it!
Year-Round Yards
The front and backyard can be in drabs and leafless during the winter months, but there is opportunity to add a pop of color with ornamental grass, colored berries, flowering shrubs, and colored bark. According to experts, adding hedges can increase home value by 3.6%.
Landscape Lighting
Having light in the garden can give you ultimate bragging rights. It can make your garden look beautiful at night while the silhouettes of your trees dance on the walls.
Malibu lighting does double duty as a deterrent for burglars while highlighting a beautiful landscape. There are solar options that brighten areas near pathways and around the home.
Planning Years Ahead
There is no need for everything in your landscape plan to happen all at once. It takes time for trees and plants to mature.
Avoid rushing plants. We recommend that you plant a few items each year (instead of all at once) so you can see how the plants occupy space as they grow. Ideally, create a five-year plan so that your home can grow with you.
Professional Landscape Designers
Making use of a landscape designer can be helpful if your goal is to increase your property value. A qualified designer can provide you with a hassle-free quotation, share local trends, and provide recommendations on plants that will thrive in your location.
Watering Systems
If you don't have the interest or time to water the gardens or lawns yourself, consider installing a watering system as part of your landscaping plan. There are many options to consider from irrigation to drip systems. Irrigation and sprinkler systems tend to carry a hefty price tag but can be well worth the investment. Drip systems can be installed inexpensively, especially if you are willing to do a little DIY.
Landscape Features with Mixed Reviews
Not all landscaping is equally loved, and therefore it may not dramatically increase your home value. In fact, some yard features may be simultaneously desired by potential homebuyers and avoided by others. Here are some common yard features that often get mixed reviews. Think carefully when deciding if these investments make sense for your home and neighborhood.
Swimming Pools
During the summer months, your pool can be the crown jewel of the home. If uncared for in the winter months, it can resemble a swamp. In winter, it needs constant monitoring and chlorine to maintain the clarity of the pool. Not every home buyer is willing to sacrifice the time or cost required to maintain a pool year-round.
Fruit Trees
Rotting fruit brings flies, and that is something homeowners should avoid at all costs. Not to mention, fallen fruit can be an eyesore. Fruit trees require regular pruning, which adds more maintenance for the homeowner. While some may consider a fresh food source a perk, it may overwhelm others.
Built-in Fire Pits
A colossal stone firepit may be beautiful, but they often occupy a large portion of the yard. Additionally, future repairs to gas lines may require professional help. Consider a portable firepit in its place. These can be moved around easily, so you can enjoy multiple parts of the yard.
Concrete Patios
The largest concrete area is typically located in your front yard and creates parking space. However, it is common in backyard patios and outdoor spaces. Concrete can crack over time and lacks the visual appeal of other materials such as pavers, tile, and stone. If a large concrete slab is unavoidable, research options for staining or stamping to beautify it and increase home value.
In Conclusion
There are many options when it comes to improving your landscaping and, as you now know, small changes can really make an impact. Take it one step at a time when adding to your outdoor space, and your home value will grow!