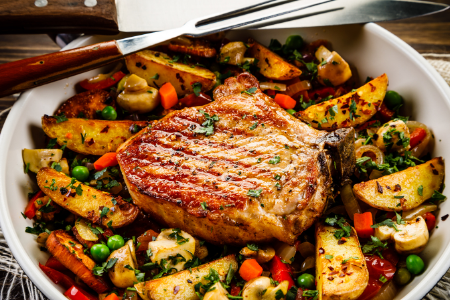 Who doesn't love relaxing on a cool fall evening? Unfortunately, you regularly have dinner to make, people to feed, and a kitchen to clean up afterwards. If you aren't craving the usual and are looking to minimize the mess, then you're going to love these one-pan fall recipes for an easy dinner!
You Can't Go Wrong with Chili
Chili is a simple and highly customizable fall recipe that satisfies the pickiest eater. You can stick with a classic chili recipe or try something brand new like black bean and pumpkin. One of the best things about chili is that you can toss all your ingredients into a slow cooker in the morning and come back to a completely cooked meal at dinner time! Just make sure you cook your meat before you add it to the other ingredients. For a unique take on this delicious recipe, try a meat lover's version with ground beef, ground pork, and Italian sausage.
One-Skillet Pork Chops for Something Speedy
When you're busy with work and family, getting a healthy meal together in short order can seem nearly impossible. Fortunately, pork chops are swift and easy to cook in a skillet. Cook your chops in a skillet until they are well browned. Set them aside and add carrots, onions, vegetable stock, peas, and mustard into the same skillet. Bring to a boil, simmer for five minutes, add your pork back in, and cook for another three minutes. Let your sauce thicken and serve! To enhance this dish's flavor, use bone-in pork chops.
Winner, Winner, Spicy Chicken Dinner
If you're feeling cold on a chilly fall evening, warm up with this one-pan sriracha chicken dinner. It's sweet, spicy, and easy to make. Even better, it only takes a few ingredients to really wow the dinner table. For this recipe, you need to preheat your oven to 400° F (200° C). Get ready to make a delicious brown sugar sriracha sauce that will have the neighbors knocking on your door! Round out this meal by serving it alongside a simple green salad.
Instant Shrimp Scampi
Many people now have an instant pot stashed away in the corners of their cabinets. There's no better time to pull out this amazing kitchen appliance than when you want to make an effortless dinner. You can cook this crowd pleaser in about 20 minutes! Start by softening garlic in a little butter and olive oil. Add the remaining ingredients to your instant pot and cook for just a few minutes. This meal is perfect for when you have friends coming over unexpectedly or for a quick romantic dinner on the fly!
Breakfast for Dinner with a Frittata
Fill your stomach with this protein-packed cheesy frittata for an easy meal that works for breakfast and dinner. Whisk together eggs, cream, your favorite herbs, salt, pepper, and mozzarella in a bowl. Heat vegetables of your choice in your favorite skillet with butter and oil. Pour in your egg mixture, cook on the stove-top for a few minutes, sprinkle on cheese of your choice, carefully transfer the skillet to your oven, and bake. This easy bake is great for brunch too!
Butternut Squash Soup to Save for Later
Traditionally, butternut squash soup can be very time-consuming and difficult to make because it can take upwards of an hour to merely roast your squash. Forget about that! This easy fall recipe is the perfect way to get cozy at any time of the day. You won't believe that you can make such a flavorful soup in a flash, and in one pot! Soften onion and garlic in water for about seven minutes, add squash and chicken stock, and simmer for twenty minutes. Either use an immersion blender or carefully put your mixture into a blender to puree until roughly smooth. Customize your soup by adding sour cream, salt, pepper, herbs, or a little apple cider. Make extra to freeze for future meals.
Easy Pie Bites
Who knew making homemade pie was so easy? These mini pie bites are a wonderful way to celebrate cooler weather, and you probably already have all the ingredients you need in your kitchen. Unroll pre-made pie crusts onto a baking sheet and use a rolling pin to mash them together in one smooth layer. Quickly heat jam in the microwave, add frozen berries, sugar, and cornstarch. Score small rectangles on your pie crust, spoon a small amount of your mixture into each rectangle, seal with pie crust, and bake.
Clear Your Schedule for What Matters
These autumnal recipes fill bellies and hearts with delicious food while sparing your kitchen sink the dirty dishes. Try getting creative and making these easy fall recipes part of your regular rotation so you can take time to spend with the people you love. Here's to warm wishes and cozy nights in!