Working from home has many advantages, including saving money and time. When the pandemic hit and work-from-home suddenly became the new normal, you simply adapted- working from the couch, the bed, the kitchen… basically, anywhere you could type and make phone calls.
However, these makeshift "work areas" in your home prevent you from maximizing your work output. You may even feel tired, sluggish, or experience physical pain. It is time to design and invest in a proper office inside your home. Here are 6 tips to setup a home office to create the office vibe needed to boost productivity.
1. Invest in a Comfortable Chair
One of the keys to a comfortable work setup is a great ergonomic chair. You will be sitting at your desk for almost the entire day, so to avoid back pains, eye strains, and all sorts of aches, you need to invest in an ultra-comfortable chair.
We recommend selecting an office chair with a height, backrest, and armrest that can be adjusted. It is also highly recommended that you pick one with built-in lumbar support and a 360-degree swivel base. These options will allow you to adjust the chair so that you can maintain a healthy posture throughout the day.
2. Set Up in Suitable Space
Your desk is where you will spend long hours doing work, so you do not want to simply set a desk and a chair in any nook. Space is crucial.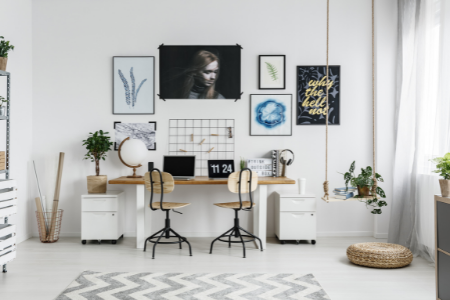 Select an area in your house with a lovely view of the sky or nature, which can melt your stress away. If you do not have this type of luxury, opt for a space where you can easily move around. Compensate the lack of view with interior design. Decorate your walls, invest in houseplants, flowers, rugs, and establish a color motif that pleases your eyes. This is your opportunity to do a workstation makeover that you would not get to do in a normal office.
3. Install Lighting
Protect your eyes by installing proper lighting in your home office. Suffering from eye strain can set you back significantly. To be able to work long hours while keeping your eyes safe, set up lighting over your reading space as well as at your computer. You may also need to install lighting behind you to avoid reflection and glare on your computer screen.
If possible, try to select a space that has some natural light. This reduces the number of fixtures you need to purchase, and there are benefits to natural light that extend outside of the workday. According to a 2017 study conducted by the National Sleep Foundation, natural light helps you sleep better, which is crucial for your health. Numerous studies have also found that natural light puts you in a happier mood and improves your productivity. Not to mention, it will help you conserve energy if you are closely monitoring your utility bill.
4. Do an Ergonomic Checkup
Protecting your musculoskeletal system will increase your productivity, speed, and comfort. When designing your home office, the setup should avoid stress and pressure on your body— which is what you literally use to work. If your posture is wrong— from your back to your arms— it's unlikely that you will be as productive as you would like to be over time. Check the following items in your home office:
Monitors
The top of the computer screen should be near eye level— or slightly below.
Keyboard
Keyboards should be positioned so your forearms are parallel with the floor.
Chair
Adjust the height of your chair. Your feet should be resting on the ground with thighs parallel to the floor.
5. Privacy Considerations
If you have found an area in your home with the correct lighting, ample space, and perhaps a gorgeous view, have you considered privacy?
You need to work in a quiet area that is free from distractions. Avoid areas with television or game consoles, children's play spaces, or easy access to the kitchen. The sound and activity in those spaces will make it difficult to stay on task. Additionally, you may have some conversations or video calls that you do not want the entire household to participate in. Find a private nook so you can keep work and normal life separate.
6. Purchase a Standing Desk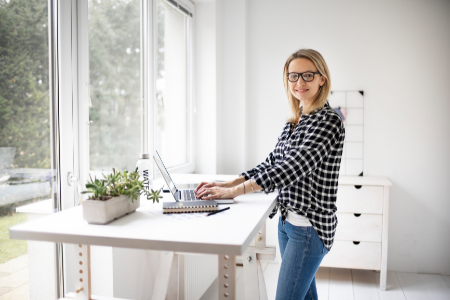 Although pricier than a traditional desk, opt for an adjustable desk that you can bring to a standing height. These desks provide the option of standing or sitting at various points throughout the day.
According to Mayo Clinic, sitting too much (more than 8 hours a day) is as dangerous as obesity or smoking. Cholesterol levels spike, body fat can accumulate in the waist area, blood pressure and sugar levels can increase— all of which are serious detriments to health. By investing in a standing desk, you can continue your work without sacrificing your health by simply adjusting the desk to standing height a few times per day.
In Conclusion
A work-from-home setup, once thought to be temporary, may now be the long-term workplace. Investing some time and energy into creating the ideal home office will make you happy and productive as you move forward!
Please follow and like us: