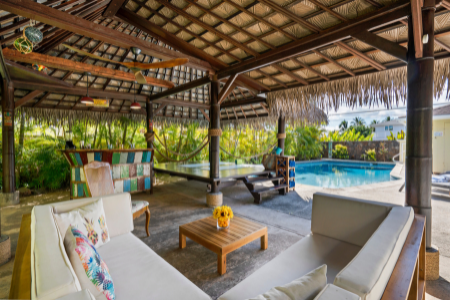 Are you pumped for summer but not for the backyard prep? We have you covered! Embracing the season should be anything but stressful. Here are some ways to fast-track your backyard for summer poolside vibes and serious relaxation.
Think in Color
One of the best ways to welcome summer is by going all in on your color schemes. Think beachy tones or bright, happy hues for a seasonal touch. Coordinated and eclectic color palettes are both on the table but be sure to choose one or the other before going full steam ahead.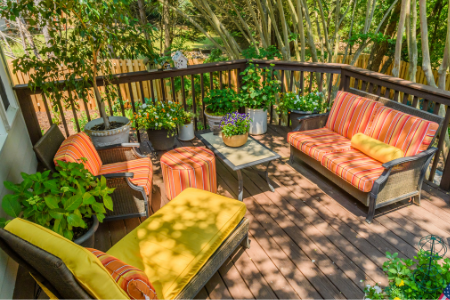 There are tons of strategies to add color to your backyard but focusing on high-traffic areas is always a smart first step. Use tropical colors on your table or dinnerware to brighten up outdoor dining. If furniture is your thing, colorful pillows or throws let you build on your basics for a fresh spin on seasonal.
Plant Party in the Backyard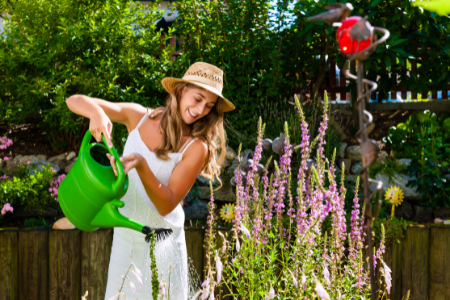 Nothing says summer like blooms and foliage! While color is part of the equation, choosing your plants by climate is just as important. Pick low-key perennials for lasting color and volume or revamp your garden on a yearly whim. Plants are as personal as any other design preference so choose something you love for your own beachy haven.
Another plant possibility involves exploring your artistic talent with a little DIY. For this project, you'll need an array of terra cotta planters and acrylic paints in your favorite shades. Go monochromatic for a more streamlined look or treat every piece as an original: the important thing is to have a plan and go all in.
Fancy Feet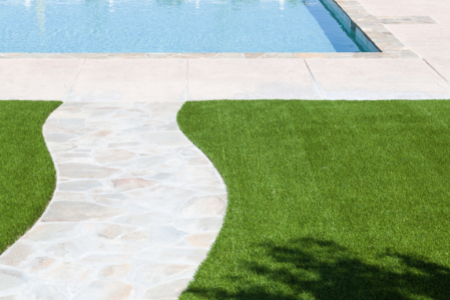 Next, get ready to elevate your digs by focusing on foot-friendly spaces. If green grass is hard to come by or difficult to maintain, think about giving turf a chance. Use it to create a seasonal carpet or play place for your kids. You'll be happy to know it stands up to pets and kids better than traditional grass for durability you can count on.
Outdoor rugs are another low-key option for backyard beauty. Are you interested in pattern, weather resistance, coverage or comfort? Some styles require more care than others so find out which materials work best for your space. Beyond practicalities, rugs make excellent statement pieces based on size alone. Remember dark colors absorb the most heat so lighter shades provide the right amount of summer chill.
Texture
Texture tends to get overlooked as design elements go. It's so perfect for warm weather and outdoor spaces that it'd be silly not to use it. Materials like jute, rattan and sisal are rustic yet effortlessly casual for an understated oasis. Bring a coarse weave or tactile touch into the fold for a touch of summer serenity.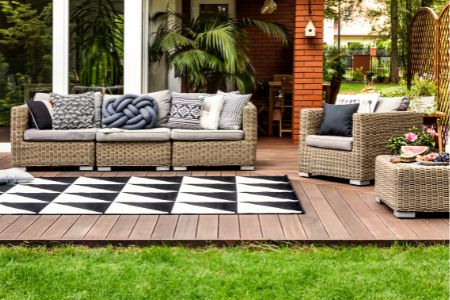 If you don't feel the feels when it comes to texture, bold visuals might be a better alternative. Warm vibes have everything to do with full expression and unapologetic prints, so do not be afraid to jump right in. Create your own cocktail of tactile and visual magic for a summer worth remembering.
Backyard Space Savers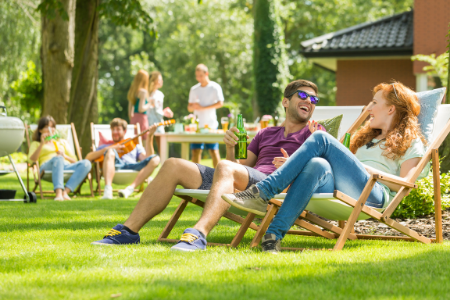 Are you hoping for a light and easy summer setup? Foldable furniture is one way to lighten your load, though metal auditorium chairs are not the only option. These chairs come in umpteen styles, colors and materials to suit your mood. Believe it or not, chairs aren't the only collapsible design find. Folding tables are more of an anomaly though they're worth the hunt. Just think of all the energy you'll save when it comes to prep!
Furniture isn't the only way to use your space wisely. Choose foldable parasols or oversized umbrellas for maximum shade and minimal storage for another win-win. Depending on your individual backyard, a shade sail provides refuge from the sun in the smallest possible package.
Patio Lighting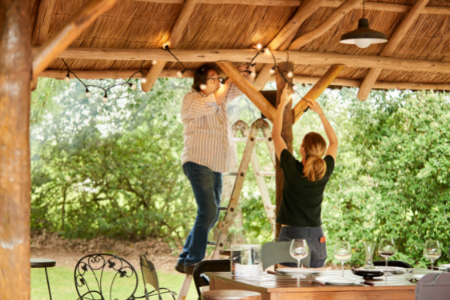 Think of lighting as the icing on the cake of your outdoor retreat. There are dozens of styles available for nearly instant gratification. Consider paper lanterns for large, colorful accents or string lights for a more festive look. If you're looking to illuminate walkways or footpaths, let rope lights guide the way. They add a playful touch to any backyard for the latest in stylish safety.

We tend to associate candles with winter décor but there's no reason they're not invited to the party. Tealights make a simple addition to any table while repurposed wine bottles, mason jars or glass cannisters keep flames protected. Use a mix of fun and functional lighting as the final touch to your enchanted enclave.
Final Thoughts
Combining home and summer brings together comfort and tranquility for the best of both worlds. Create your design with simplicity in mind for a chill start to the season. Have any time-saving tips or design hacks to share? Be sure to leave them! In the meantime, here's to lazy days and balmy nights right around the corner.