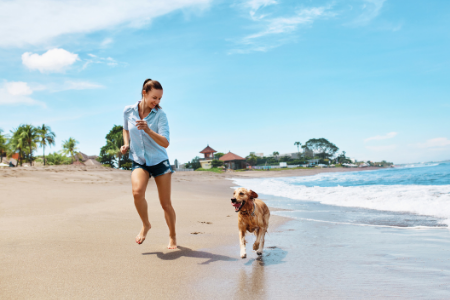 As the days get longer and the weather warmer, it's easy to get excited about all the fun activities to explore throughout the summer months! With many restrictions lifted, there are more and more opportunities to get out compared to last year. As we are sure is true for many of you, spending time outdoors or on the road with your furry best friend sounds incredible. So, as you ditch your jeans for shorts and coats for swimsuits, here are ways to enjoy the season and keep your pets safe in the summer.
Pet Safe Sunscreen
The first and perhaps most obvious culprit of injury to both humans and pets during the hotter months is the sun rays that shine down on us. Just like our skin needs to be protected, your best friend is also susceptible to sunburn – particularly on the tops of their noses and the tips of their ears. If you have a pet with a lighter coat, they are especially vulnerable to the sun's harmful rays. So just as you cover yourself in SPF, do the same for your pets. However, not just any old sunblock will do! Please be sure that you keep your pets protected by using pet-safe SPF.
Watch the Temps
The second big thing to look out for is the heat. After all, your companion is wearing a fur coat all year round, which while very stylish, means that they can easily overheat. Keep an eye out for signs of heat exhaustion such as heavy panting, excessive drooling, and disorientation. The best way to prevent heat exhaustion is to keep your pets safely inside, away from direct sunlight for prolonged periods of time. When they do go outside, make sure that there is plenty of shade available to them.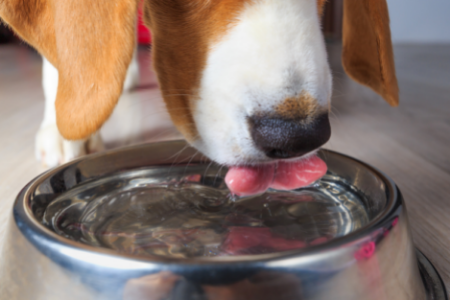 You'll also want to pay more attention to their water bowls, refilling them multiple times throughout the day. If you live in a particularly warm area where temperatures reach over 100 F, consider adding some ice cubes to their water. Overall, it'll be a good idea to avoid the outdoors during the hottest hours, usually between 10 AM and 4 PM, though this can vary depending on where you live.
Create Shade
If you want to have a day out on the beach or at a picnic and you know that you're going to be in the sun for a good amount of the day, then it's a good idea to provide your pet with a cooling vest and (or) a cooling blanket, as well as making sure that there's a shady spot for them to enjoy with you.
Paws Off People Food! (and Drinks)
For days when you are unleashing your inner grill master at your summer BBQ, it is important to make sure that only adults are eating and drinking whatever is being served. Alcohol can be extremely toxic to pets, so make sure to keep your brews and margaritas safe from the reach of your furry guests. Similarly, you'll also want to be careful with foods that have bones in them as this can scrape and hurt pets' throats and internal digestive tracts. If you're going to give your pets a treat, it's best to make sure that it's bone-free or even made especially for them.
Garden Savvy
And now calling all green-thumbed gardening fiends! Several incredible flowers and fruits bloom in mid and late summer, and you should get a chance to fully enjoy them. Along the way, it is also important to be an eco-conscious gardener, opting for pet and child-safe pest control sprays and items. You'll also want to check out this full list of plants that can be toxic to animals if they ingest them.
No Pests at the Party
There are pests that plague both us and our furry friends: fleas, ticks, and mosquitos. A popular way to try to avoid these nuisances is to light citronella candles. As you do, be sure to keep an eye on two things: the flame and the wax. Even small flames can burn your curious pets if they get too close. Additionally, citronella is toxic to pets if ingested- so keep those candles well out of reach.
Last, it is a good idea to talk to your vet and find out what they recommend in ways of flea and tick repellants for your pets, as these can cause big problems for them down the line. Not everything that happens in the summer, stays in summer.
So, as we all come out from our quarantine hibernations to summer's warm embrace, it's important to be prepared so that both you and your pet can make the most of what is sure to be an incredibly memorable summer. Let's pledge to make it memorable for all the right reasons!