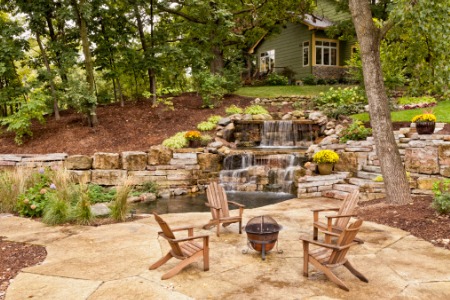 Home buyers are more than responsive and attracted to open, livable spaces that are both earth-friendly and stylish. Other than energy-efficiency, outdoor living features are another trend that's changing the landscape of home design.
Not only do these features optimize the home life of your family, they significantly boost the value of your home as well. So, if you want to turn your property in a home buyer's dream and future money make, these are the five outdoor features you should consider adding to your home.
Fish Pond
Landscaping your backyard or garden is a crucial thing to do to make your property stand out, especially in today's market. A great way to make it happen is to install a small water feature like a fish pond.
This kind of outdoor feature will go a very long way in terms of boosting the marketability of your home. What's more, homeowners who enjoy fish ponds can improve their mental health, as well.
Imagine coming home from a tiring, exhausting day at work, and you see your nature-inspired outdoor space, complete with a koi fish pond. Doesn't it sound peaceful? Well, it can add more aesthetics to your backyard and more value to your property. Just be sure to do periodical pond maintenance to keep it clean and pure.
Lawn-Care Program
Ensure your landscape or lawn is well, alive and clean. If you are planning to sell your house eventually, keep in mind that a healthy, vibrant lawn may have a positive impact or effect than you'd expect on your other outdoor features.
You may need to take the necessary steps to cut down weeds and supply enough nutrients to maintain a good-looking lawn. The NALP ( National Association of Landscape Professionals ) and NAR (The National Association of REALTORS®) suggest at least six applications of weed-control and lawn fertilizer every year.
It could cost about 375 dollars for a 2,835 square foot lawn. Although it can be expensive, all your efforts and money can increase the value of your and become a great return on investment.
Add a Wood Deck
Do you like to spend mornings or evenings in the backyard? If that's the case, then think about installing or setting up a detached or attached wood deck. This outdoor feature will offer you the perfect space for entertaining, sunbathing, and grilling. Also, take note that wooden decks are a chief selling point.
Outdoor Kitchen
Although an outdoor kitchen is not the number one priority of most home buyers, it's an outdoor feature that could undoubtedly seal the deal. The NALP and NAR believe that an outdoor kitchen project will cost you about 14,000 dollars.
But the good news is that you can recoup an estimated 10,000 dollars. It is recommended to keep this project simple to guarantee the best return on investment. As such, sixty square feet of a concrete counter, sink, ice chest, stainless steel drawers, and an inset grill is plenty to make an impact.
Outdoor Fire Pit
Even though curb appeal can be an essential factor in selling a property, not many homeowners doing this landscaping project plan to sell their home right away. Undertaking projects that you will enjoy and love today, and will aid you in maximizing your outdoor area could still be an excellent decision, provided that they won't empty your bank.
For instance, NALP claim that building an outdoor fire pit could cost around 6,000 dollars. On the other hand, NAR estimates this project may only recoup 4,000 dollars. Still, that 67 percent return on investment could be good if you're enjoying and getting lots of use out of a fire pit.
There are a lot of outdoor features that you can add to your home and would hopefully increase your home's value. Find what feature fits your lifestyle most and don't only think about resale value but also what you will enjoy most when spending time outdoors.

Please follow and like us: