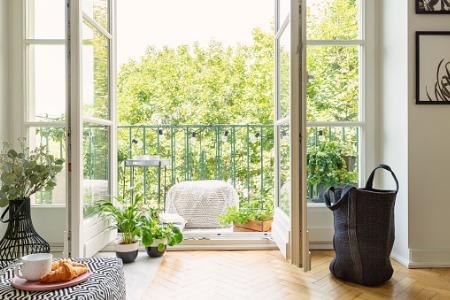 We're halfway through 2019, but it's never too late to start working toward sustainable living. One easy way to live a more eco-friendly lifestyle is to purchase from brands whose goal is to create ethically and sustainably made products. If you're in the market for some new home decor, here are our top picks for the best sustainable home decor brands to check out this year.
If you're looking for beautiful decor pieces created sustainably, look no further than The Citizenry. This company creates gorgeous handmade home wares designed in collaboration with artisans around the world. They are committed to providing fair wages and healthy work environments for everyone who contributes to the making of their products, and each item is created in small batches in order to ensure amazing, handcrafted quality.
When it comes to affordability, Dims has you covered. The company is founded on the principle of providing sustainable products at affordable prices, and if you've been wanting to find eco-friendly pieces that don't cost a fortune, this is the brand to check out. All of the furniture is created ethically, with wood sourced from sustainably managed forests and finishes that are 100% VOC-free.
This company has the motto "stylish bedding with a conscience," and that couldn't be more true. In creating ethical, eco-friendly bedding, Threaded partners with mills and factories that are committed to empowering communities through support and education. Threaded also aims to be transparent with its customers, so everyone purchasing their bedding knows exactly how it's made and where it's coming from.
Viva Terra is one of the best retailers for globally-inspired, sustainable, artisan-crafted products. The company values ethical craftsmanship and strives to provide consumers with goods that aren't harmful to the environment or the people who create them.The company believes that you don't have to compromise beauty (or your wallet) when decorating your home with sustainable products, and that's a philosophy we can stand behind.
We're constantly looking for new ways to make our homes smell great, but with all the pollutants in candles and home scents these days, it's hard to figure out what is actually safe to use. Prosperity Candle creates unique candles that are hand poured by female artisans and refugees creating brighter futures for themselves in the U.S. THe candles are free of dyes and enhancers and are only made of soy wax, premium fragrances, and natural wicks. So both the customers and the workers creating the candles can live prosperously.
This post is intended for informational purposes only and should not be taken as professional advice. The point of view and opinions expressed in this post are those of the author and do not necessarily reflect the position of Realty Executives International. This post was written by Bailee Abell. Bailee Abell is a writer born and raised in California. A graduate of University of California, Santa Barbara, she loves reading classic literature, sipping warm beverages, and visiting theme parks every chance she gets. Find her at baileeabell.com.