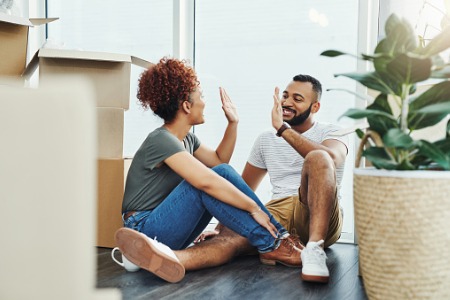 Moving is always a source of stress, but there are several ways you can get through the process and work through those boxes as efficiently and quickly as possible. Check out these tips to moving without the stress and hassle.
1. Adopt a solution-focused attitude
You can't control everything, but you can choose how you react. If you see moving as a challenge, you're more likely to see options and solutions to difficult situations. Staying optimistic and positive will help you keep calm and open to new possibilities. In contrast, if you see moving as mostly a negative experience on par with getting a tooth pulled, your natural response could be to shut down, avoid, and procrastinate — which will only lead to more stress. While there's no doubt that moving involves stress and work, you can make things easier on yourself by deciding to move forward one small step at a time.
2. Make time your ally
Much of the stress from moving stems from time constraints and scheduling snafus. But there are ways to relieve some of the pressure. Start packing early. Do your best to avoid getting forced into a difficult moving schedule. If the timing is too tight, ask for what you need. For example, if you're moving for a job, negotiate for a start date that will allow more breathing room. The same goes for closing dates. Moving on closing day is a sure way to put stress on steroids. Avoid booking your move date until you've scheduled your closing and then give yourself some leeway. It may be well worth paying for some overlap time between homes or negotiating a day or two of extra time to move out or move in. Other options include temporary housing and storage. You can even choose a moving service that's designed to allow plenty of time for loading and unloading, such as portable storage and moving containers. 
3. Eat healthy meals and snacks
Your mind and body need healthy fuel to keep going during the moving process, but that can be hard when you're short on time and the cooking supplies are packed away. Missed meals and unhealthy food choices can lead to low blood sugar, which can zap energy, fog thinking, and ignite tempers. Yes, getting "hangry" is a real thing. It's easy to get so busy that you not only forget about eating, you don't even notice you're hungry until it's too late. Resorting to fast food, while a quick fix, can be a poor choice for your body, as high carbs lead to blood sugar spikes and crashes – the opposite of what you need to manage stress.
Keep your mind and body fueled up and on an even keel by planning ahead with quick and healthy meals and snacks. This doesn't mean cooking, either, as there are plenty of pre-packaged choices at your local grocery store. Avoid getting dehydrated, too, by keeping a supply of cold bottled water at the ready.
4. Don't skimp on sleep and rest
Next to food and water, sleep is another essential pillar of your life-support system. Studies show that if you're sleep deficient you may have trouble making decisions, solving problems, controlling your emotions, and coping with change – exactly the functions you need most in the middle of a move! Losing sleep will just slow you down when you really need to be performing on all cylinders. No matter how busy you get with your move, commit to getting a full 7 to 8 hours of sleep every night. Some quick tips for getting enough shut-eye include:
Going to bed and waking up at the same time you usually do
Avoiding excessive caffeine, sugar, and alcohol, especially before bed
Taking a hot bath and using relaxation techniques before bed
Even though it's tempting to go non-stop to keep up with all your move-related tasks, give yourself mini-breaks every 2-3 hours. Sit or lie down, stretch, and breath. This is the perfect time to drink some water and eat some nuts or other healthy snack, too. Not only will a good night's sleep and breaks reduce your stress level, you'll get the time back through increased productivity and energy.
5. Ask for help
You don't have to do this alone. Reach out for help with the parts of moving you find most challenging. If you're stuck at the beginning stage, a professional organizer or friend who lives to declutter can kickstart your packing and downsizing process. Want to skip the heavy-lifting? Even if you're not using traditional movers you can still hire professional help to load and unload your moving truck or portable container, as moving services are no longer an all-or-nothing proposition. If you have to watch every dollar, then enlist help from friends or family.
No time to clean your old or new place? Hire a cleaning service. Worried about dealing with your 2-year-old in the middle of the moving chaos? Ask a friend or relative to watch your kids for a few hours or arrange a "good-bye" play date with their friends. They'll probably welcome the opportunity.
6. Remember to breathe
Do you ever catch yourself holding your breath when you're stressed? Start practicing breathing exercises early in your moving process so it will be more like second nature as things get hectic. Close your eyes and picture a place where you feel calm and peaceful. Breathe in, starting in your belly, and say a word or phrase in your mind that brings reassurance, such as "I breath in peace and courage." As you breathe out, say something that you want to release, such as "I breathe out stress and worry." Even if you just do this for one or two minutes, you'll be surprised at how just taking time to breathe can bring stress relief.
7. Stretch your muscles, relax your mind
Moving is physical, even if you're not doing most of the heavy labor. If you start stretching ahead of time you can increase flexibility, which will help avoid strained muscles and injury. Try some yoga poses to prepare your muscles and calm your mind. Once you know some basics you'll be able to take time out during your move for a few minutes of stretching. This will help minimize aches and pains and help you sleep better at night.
Need some motivation? Plan to treat yourself to a professional massage as a reward for regular stretching, not to mention all your hard work. According to the Mayo Clinic, studies show that massage is an effective treatment for reducing stress and muscle tension.
8. Pack your sense of humor
With benefits backed up by science, laughter is one of the all-time best stress management tools, writes wellness coach Elizabeth Scott, author of 8 Keys to Stress Management. That's because laughing actually reduces the level of stress hormones like cortisol, epinephrine, dopamine, and growth hormone at the same time it increases levels of health-building hormones like endorphins. There are bound to be frustrations along your journey getting from Point A to Point B. So why not choose to react in a way that relieves stress instead of igniting it? Rather than complaining, blaming, or getting down, try looking on the lighter side. Maybe it's so ridiculous that you can just laugh and think about what a story this will make looking back.
Whether this is your first big move or one among many, it's only human to feel overwhelmed at times. This blend of practical moving tips and stress management techniques will help you move forward with confidence to a new home and way of life.
Sponsored by PODS.