By: Good Guys Garage Door Solutions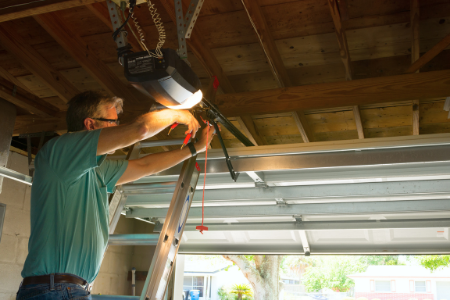 Manufacturers create garage door openers to operate with the highest quality of safety, security, and convenience. Beyond even these advancements, garage door openers can now function almost silently. This can be an especially important advantage if you have a room located above or beside the garage door. That is why we collected a list of the five quietest garage door openers from three top brands: LiftMaster, Genie, and Sommer.
Before we jump into the specific openers, you should know what makes an opener operate more quietly. When shopping for a new opener, look for side-mount or belt drive options. Because both have fewer moving parts or metal hardware, they produce fewer vibrations and thus less noise. Also, look for descriptions that mention soft start and close. This also assists in reducing vibration, cutting back on noise levels.
Top Five Selections from LiftMaster, Genie, and Sommer
1. LiftMaster 8500W Garage Door Opener
The LiftMaster 8500W Garage Door Opener is a wall-mounted opener with the quietest operation we could find. Because it is attached to the wall instead of the ceiling, there are minimal moving parts and vibrations. This allows the door cycle to be almost silent, even from a room close to the garage. Beyond quiet operation, this opener also has great security and safety perks outlined below.
Built-in Wi-Fi for smartphone control with myQ app
Backup battery for operation during power outages
Remote control LED light with 1500 lumens
Automatic garage door lock
DC motor and direct drive for quiet operation
2. Genie 6170 Garage Door Opener
The Genie 6170 Garage Door Opener, coming in as the second quietest option, also features a compact wall mount design. Since the motor connects directly to the spring tube, there are few moving parts to create unnecessary noise. Again, this allows the opener to operate almost silently, ensuring that your garage door does not disturb anyone in the house. This opener also comes outfitted with smart operation and the latest security features.
Aladdin Connect for remote access through a smartphone app
Bright LED light fixture to illuminate your entire garage
Internal door lock to prevent anyone from entering your garage from the outside
HomeLink and Car2U compatibility
Backup battery for operation during a power outage
3. LiftMaster WLED Garage Door Opener
The LiftMaster WLED Garage Door Opener is a trolley-operated motor, meaning it operates on a belt drive. Even though it is not wall-mounted, it still provides an incredibly quiet operation, selected as the third quietest opener option. Because it rides on a rubber belt instead of a metal chain, this opener creates minimal vibrations. This ensures a quiet motor and a long-lasting lifespan. This opener also stands out because it is the brightest LED lighted opener, supplying the best safety for your home and family.
Brightest LED opener with 3100 lumens of lighting
Quiet operation with DC motor and belt drive
Built-in Wi-Fi for smartphone control through myQ app
Battery backup to allow opening and closing of your garage during power outages
4. Sommer 2060 evo+ Garage Door Opener
The Sommer 2060 evo+ Garage Door Opener is known for being one of the best direct-drive openers on the market. The manufacturers have perfected the design so that the motor only has one moving part and thus next to no vibrations. It also provides maximum lifting force and a great warranty on the motor and parts. Beyond these elements, Sommer has also outfitted their operator with several important safety and security features outlined below.
Only one moving part for maximum quiet and smooth operation
Chain drive, DC motor
LED lighting
Automatic locking mechanism for the ultimate security
Updated speed profile for quick open and close
Advanced object detection system to increase safety
5. Genie 4024 Garage Door Opener
The Genie 4024 Garage Door Opener is also a trolley-operated opener that operates on a belt drive. Featuring stop-start control and an incredible opening speed, this opener stands out as an incredible product. The strong DC motor and rubber belt allow the motor to function quietly. With this product, you are getting a great experience with both silent operation and safety technology.
140V DC motor with soft start and stop control
Motion detection LED lighting
Aladdin Connect compatibility
Intellicode security to prevent break-ins
How to Get the Best Garage Door Opener for Your Home
With so many great options available for upgrading your home, it can be difficult to choose the best new garage door opener. Hopefully outlining the quietest garage door openers helps make your decision a little clearer. Have an opinion about which garage door opener you think is the quietest? Let us know!