Have you ever thought about tying the knot in your own backyard, or offering it up to someone in need of a wedding venue? Saying "I do" in a place close to your heart certainly has its advantages. Still, pulling it off without a hitch requires some special planning. Here are a few things to keep in mind when planning or hosting a backyard wedding.
Define Roles
There are many reasons to opt for a backyard wedding over a traditional venue, including a more informal vibe. While hosting one may appeal to the DIYer in you, be realistic about your to-do list. How long would it take to make centerpieces, place cards, and gift bags for everyone invited? Do you know who to call for rentals, catering, and entertainment? Planning a wedding is serious business so don't hesitate to call in the pros.
Choose a Theme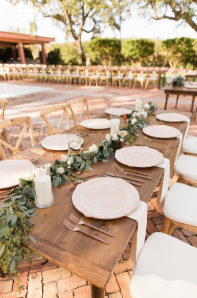 When it comes to backyard weddings, choosing a theme should be one of your first priorities. Why not play off your beautiful outdoor space? Think of adding floral accents or greenery to your backyard décor for a botanical touch. If you've set the date for an autumn wedding, opt for rustic details like twine and seasonal gourds for good measure. This is your moment to go all in on inspiration for a truly memorable event.
Dazzle Your Guests
Outdoor events make the most of natural lighting, especially for daytime events at the height of summer. If your big day is scheduled toward evening, do not forget to create a dazzling display of glowing lights for continued festivities! If your backyard consists of several wide-open spaces, consider arranging string lights en masse for a phantom structural effect. Other options like floating candles, lanterns or luminous strands add the final touch to a perfect evening.
Perfect the Landscaping
When was the last time you put your backyard under a microscope? It may be fine for an impromptu barbeque, but a wedding is a category all its own. You may have guessed that lawn care requires maintenance and possibly improvements before the big shebang. Start looking at your grass and gravel so you can fill in bare or thin spaces ahead of the event. Your yard may need patch repair or long-term treatment for picture-perfect results, so start early. Finally, make a note to turn off the sprinklers during the event!
Get Permission
People are used to entertaining at home though they rarely invite the whole neighborhood. For that reason, it's easy to forget about permits when hosting at home. Check with your local county or municipality to see what's required before going ahead with any plans. As for potential incidents with guests, vendors, or other mishaps, understanding the legalities ahead of time is never a bad idea.
Expect the Unexpected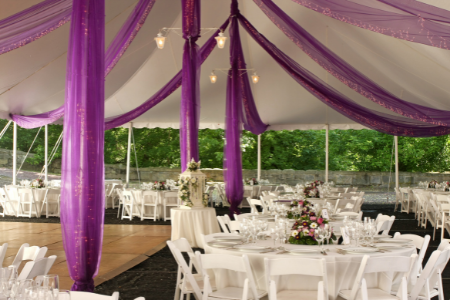 In a perfect world, we would all get married under sunny skies with a gentle breeze. Although weather is often a gamble that cannot be controlled, you can always have a backup plan if mother nature chooses not to cooperate. If your heart is set on hosting the event completely outdoors, consider opting for tent or canopy solutions. These can provide shade during the warmer times of the day and protection from rain or cool breezes in the evenings. Not to mention, this dedicated space can be decorated to create the ultimate romantic setting for any backyard wedding.
Back to Basics
Sometimes, event planning is about more than just beauty. For example, is your backyard as flat as a Kansas cornfield? As silly as it sounds, both dancefloor setup and guest seating depend on level ground. Companies specializing in outdoor events can help you with logistics as well as related rentals so be sure to ask plenty of questions early on.
Extra Accommodations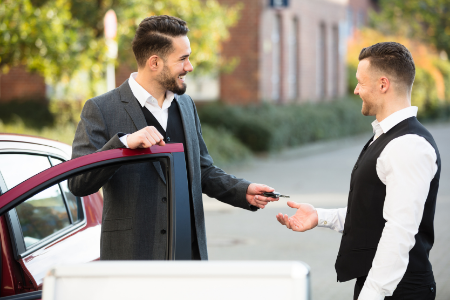 Hosting an event at home may seem like an idyllic plan (and indeed, it is!), but what might not cross your mind is all the services that go along with it. For example, have you thought about bathroom accommodations for all your guests? How about a generator for the extra electricity needed? Is there ample parking in your neighborhood, and do you need to consider valet or shuttle services? Your caterer may also need to make special arrangements for prep, cooking, and timely serving. For as many upsides as there are to hosting your own backyard bonanza, it does have its challenges.
Safety Considerations
There are a few safety issues to consider when hosting an event on your own property. For one thing, added insurance may not be a bad idea. Think of it this way: dozens of people passing through for a backyard wedding is not business as usual. Review your existing policies and talk to your insurance broker about what protections you will want to have in place. It may also be wise to cover your pool and limit your home's entry. While accidents are unlikely, you're better off covering all your bases.
Spread the Word
Another way to prepare for your big event is by politely letting the neighbors know ahead of time. That way, they'll be able to make their own plans with ample notice or avoid scheduling home repairs on the same day. Obviously, there is no way to block out all ambient noise or mute your neighbors- that is part of the package when it comes to at-home weddings. However, it is still smart and considerate to communicate regularly for minimal intrusion.
Final Thoughts
Hosting a backyard wedding can be the chance of a lifetime. Make sure you are in the know about what needs to happen to pull off a memorable day. From permits to perennials and everything in between, careful planning is key. Best of luck with your backyard bash!