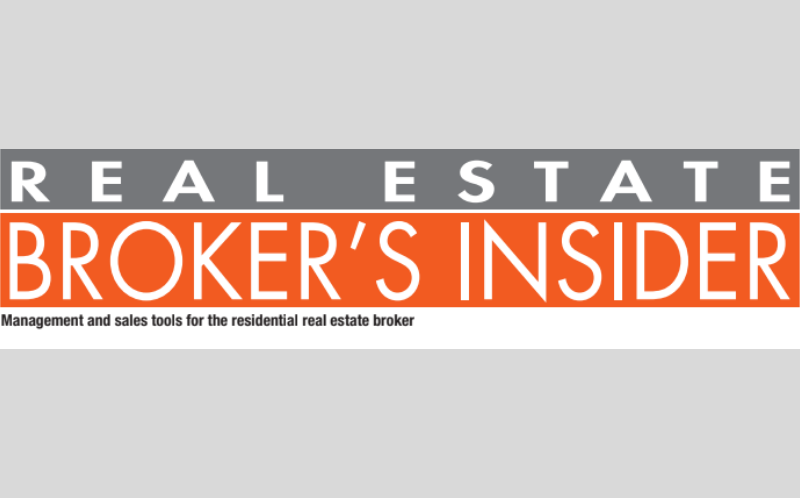 Reprinted with permission from Real Estate Broker's Insider. www.BrokersInsider.com
Franchise System President Combines Hard Work, Tech Savvy
Patrick van den Bossche brings an atypical background to his role as president of Realty Executives International, the Arizona-based franchise system with 500 offices and 8,000 agents.
Van den Bossche's resume includes stints at companies such as Barrett-Jackson Auction Co., the firm known for high-end auto sales, and Echo Automotive Inc.
But van den Bossche — who was named this year to a top job at Realty Executives — is quick to point out that he has held a real estate license since 2005. And he says manufacturing isn't so different from real estate.
"My career in manufacturing taught me how to scale systems nationally and taught me the discipline of supply chain," van den Bossche says. "Both of those elements are applicable in real estate, where supply chain is a combination of inventory, brokerages, agents, and end-user consumers."
Van den Bossche spoke with Real Estate Broker's Insider about his career and business philosophy.
I was a paperboy in New Hampshire. I came as an immigrant from
the Netherlands as a teenager, so a strong work ethic was a generational core value in my family. I was in essence my own franchise owner and had to deliver and collect money with my profit margin being the remainder after paying for my papers. Lessons learned included customer service, for better tips and prompt payment; supply chain and route management, for higher productivity, inventory management, and to keep from freezing my ass off in the winter; and amplifying the overall experience through simple things like a smile, kindness, and showing gratefulness to my clients — all to create a differentiator for a fairly commoditized and low-level service.
A defining moment in my career came at the age of 26. I pitched what turned out to be the acquisition of a small manufacturing company in Pomona, CA, with no true financial means but a well thought-out — but not perfect — plan. In that moment, I discovered the importance of humble confidence through thoughtful and respectful communication; sound research to be a true authority on subject matters; exhibiting leadership through communicating clear vision, purpose, and plan; authenticity; and attitude.
I have the privilege of leading Realty Executives, building on our 53-year legacy as a real estate industry leader and setting the vision for present and future success. We have technology built from the ground up, without depending on third-party technology. Our business platform is agile to match the ever-changing demands of the market. Our business model is sustainable not only through the good ties but also through the challenging times. We view agents and brokers as our partners and CEOs of their own businesses. It is our responsibility and commitment to align our systems to that partnership. We are a people first culture and our people are the difference in an industry of many choices.
We are in an industry where both insiders and consumers respond to headlines and sound bites. There is a general misunderstanding on what value real estate professionals provide. For most people, buying a home is the largest purchase they will make and one of the biggest assets in their portfolio of personal net worth. A transaction of this magnitude is complicated, and the value of the agent to a seller or buyer is something that is often underestimated. Deep knowledge of neighbor- hoods, the ability to negotiate for maximum value, and taking care of the mountains of paperwork are just a few of the benefits they bring. Having that message heard through the noise of the online real estate solutions is not easy.
I've made many mistakes, and if I ever had the gumption and time, I'd write a book called Skinned Knees to share them. I would say that the one of the biggest mistakes I have made is not being more timely on firing people that are not good for the culture despite them being strong producers. There are two things that cannot be bought: time and culture.
Culture is not a label for us but a belief that people matter and that people are an asset. We are in the people business, helping people build a career in real estate, helping people buy and sell real estate, and supporting an entrepreneurial environment and lifestyle through a well-thought- out business platform. Our business platform is dynamically designed to be agent-centric, providing the freedom and scalability for each agent to build their brand through a brand collaboration created by our system and technology. As a people-first culture, we are relentless about putting the agent first and fostering a community of collaboration and sharing including best business practices, mentoring, coaching, and career development. Culture is more than a label for us — it's a way of life and our guiding principle. Accessibility to leadership at all levels, open communication, and doing what is best for the agent are not policies for us but vital functions of our existence.  
I predict the future generation version of block-chain technology will become the ledger solution for real estate transactions and that it will be a more applicable platform for the MLS system. We are excited about the possibilities and, since technology is a core competency for us, we are very engaged in participating in the potential applications.