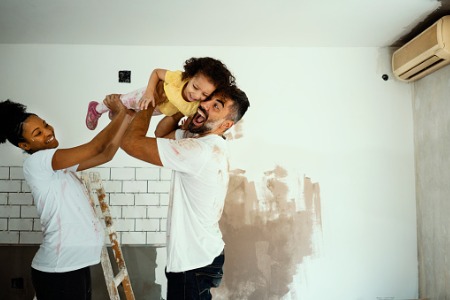 Have you just bought a house of your dreams? That's great! Congratulations!
Now it's time to think of how you can turn your empty house into a cozy home and what tools you need.
Let's consider the first steps you should take when decorating rooms in your new home.
In with the new, out with the old
The very first step you should take is to get rid of all the things that you don't need or no longer want. Forget about those dusty boxes filled with useless stuff. There is no place for them in your new house. If you didn't use those things for months or years, you would never use them again.
If the item is broken – send it to the landfill. If the item is in "gently used" condition – sell it online or send it to a charity shop.
Use Pinterest boards
Have you already chosen interior design style and color palette? If you have no experience in home decoration, it might be challenging for you to define the key concept of the interior design. But fortunately, thanks to apps, you can overcome this challenge.
You can use Pinterest or other idea board apps to visualize your current ideas and find new inspirational photos. If you create a few design concept boards (one board for a whole house, and one board for each room), it will help you to see clearly how your dream home will come together.
Set priorities
Let's face it. You can't decorate all the rooms in your new house in a day, but that can easily become overwhelming.
So you should decide which rooms you want to decorate first, and which ones you want to decorate last. If you set priorities right now, it will be easier for you to organize the working process. And that will help you to complete all the tasks faster.
Set a budget
You have just bought a new house and feel super excited. But please, think rationally. Don't spend all the money you have in the first month.
Set a budget for your home decoration project, and try to allocate your funds wisely. Buy wall arts, dinnerware sets, and exotic plants only if you are sure that you can afford them.
If you want to buy something that your current budget doesn't allow you, don't worry about that. You can buy it later. Start saving money today and you will afford that luxury item in a few months.
Start big
When it comes to home decoration, it's crucial to "start big". Don't buy any small decorative items, if you haven't purchased the biggest, the most important things yet. For instance, don't buy pillows, if you still haven't chosen a sofa.
That might sound like an obvious thing, but that's a real problem. Believe it or not, but the vast majority of first-time home buyers make this mistake. They "start small" and waste lots of money on interior design items that, in the end, do not match each other.
Chose the right color, texture, and pattern
Most people believe that interior design is all about choosing the right color scheme. However, it's much more than that.
If you want to make your home stylish, you need to choose not only dominant and accent colors, but also pick the right textures and patterns. For instance, if you have a black bookshelf made of wood, you should consider adding a few decorative items that are black and have similar wooden texture.
Fix small problems
It may be tempting for you to replace all old furniture and appliance with the new ones, but don't rush to do that.
For instance, if the bedroom cabinets are drab, find a way in which you can fix them up. You may just need to refresh them with paint to make them look like new again.
The point is that some old furniture is much better in quality than the new stuff. So you should think twice before spending money on pricey modern stuff.
Make your house feel like home
Now you are a lucky owner of the house. And you can decorate it in any way you like. So don't rush to make important design decisions, and try to enjoy your first days at your new home to the fullest. Fill each room with your own personal style and add touches that make it feel nice and cozy.
Marques Coleman is a blog writer at TrustMyPaper and Studicus. He specializes in marketing and marketing and copywriting. Moreover, he is an avid traveler and always tries to learn something new.