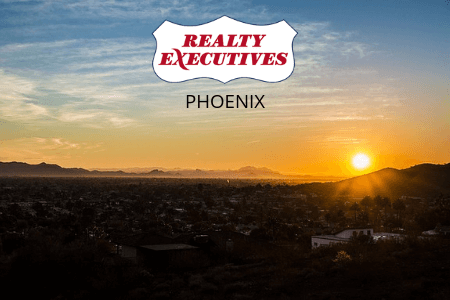 Realty Executives International congratulates D. Patrick Lewis with his recent appointment as Managing Broker at the independently owned Realty Executives Phoenix franchised brokerage. Lewis, who joined the Realty Executives team in 2015 and was previously the Regional Executive Development Specialist, is excited for his new role and is positioned for continued success in his real estate career.
"Mr. Lewis is a natural leader and a fantastic real estate agent," said Patrick van den Bossche, President of Realty Executives International. "The Phoenix brokerage made a great selection in Mr. Lewis to strengthen the Realty Executives longest tenured brokerage for its continued growth."
In addition to being an accomplished agent for 17 years, the Phoenix-native has served at many levels of local and national leadership roles, from chairman of state and local committees to strategic planning of the local MLS and associations. Lewis graduated from the Scottsdale Area Association of Realtors Leadership Class, AAR Leadership Training Academy and was one of the inaugural graduates from the City of Scottsdale Fire Departments Citizens Fire Academy. Most notably, he has served as the 2014 President of the Scottsdale Area Association of Realtors and currently serves as the 2019 President of the Arizo
na Association of REALTORS®.
"I am excited for this next chapter in my career and cannot wait to guide our Realty Executives Phoenix network into the future," Lewis said. "The Realty Executives brand is tested by time and remains one of the greatest real estate companies of our industry."
The Realty Executives Phoenix brokerage is one of the largest and most established brokerages in the Realty Executives network. With over 800 agents in 28 offices across the greater Phoenix area, the brokerage saw over 2.7 billion sales volume in 2018. The brokerage's goal is to provide innovative programs, superior support and a commitment to service, empowering its agents to create their own successful businesses and represent their clients with the highest level of professionalism in the real estate industry.
Eden Sunshine, Vice President of Operations at Realty Executives Phoenix, believes Lewis' addition will excel the already great momentum the brokerage has.
"Patrick's industry knowledge is superior and an excellent addition to our team," Sunshine said. "His achievements are a true testament to the great agent, broker and friend that he is, and I am excited to see how he applies his ideas to increase agent productivity and recruit the best real estate professionals in the market."
Please follow and like us: