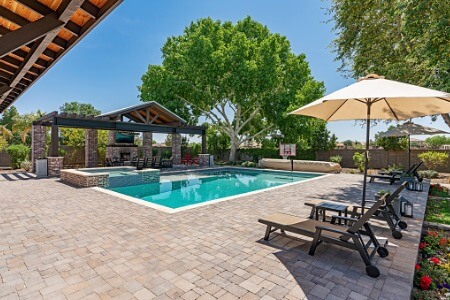 Having a pool in your home's backyard is a dream that so many homeowners share, but only a few end up actually achieving it. While it can seem like a luxury, a pool can actually be a lot of work and ends up costing a lot upfront and over time. There are many pros and cons to adding a pool, and ultimately it's a big financial decision. Here are a few questions to ask yourself when deciding whether adding a pool to your home is worth the investment.

How much does it really cost?
It's no secret that adding a pool to your home will cost a lot of money, but do you know how much it really costs? As Houselogic notes, installing, equipping, and filling a 600-sq.-ft. concrete pool will cost a U.S. homeowner an average of $30,000. When you add in all the extra costs of safety fences, aesthetic upgrades like waterfalls and lighting, and even a spa, you're looking at an upfront price of around $100,000. And as time passes, you'll be paying operating expenses of filtration, heating, cleaning, and other upkeep necessities, which will only add to your bills every month.

Will it be worth it when it comes time to sell your home?
Another question to ask yourself when deciding whether or not to add a pool to your home is if adding a pool is worth it if you think you will end up selling your home in the future. Dave Ramsey writes that many buyers consider a pool to be a liability rather than a luxury. But on the other hand, a pool could potentially boost your home's value by up to 7%. According to Ramsey, here are the conditions that would make adding a pool worth it if you're going to sell your home:
● You live in a higher-end neighborhood and most of your neighbors also have pools.
● You live in a warmer climate like California, Florida, Arizona, or Hawaii and you can enjoy a pool year-round.
● The pool doesn't take up your entire yard and there's still room for other features like a swing set, a garden, and outdoor furniture.
● The style of the pool fits with your home and neighborhood, and it's well maintained.
● You've spoken to your real estate agent and you both are confident you can attract a buyer who wants a pool in their new home.

Does it make financial sense for you?
Finally, you shouldn't add a pool to your home if you cannot afford to do so. Considering the upfront cost and financial upkeep of a pool, it's important to ask yourself whether or not it makes financial sense for you to invest in one. It isn't smart to invest in a pool if it will make you go into debt and end up costing you more upfront than you would make from having it as an additional selling point for your home. Calculate your personal costs and figure out if it truly makes sense financially for you to invest in a pool before you move forward.
No matter what, adding a pool should be your decision. If you can afford the investment and upkeep and you and your family truly want a pool, it will likely be worth it for you.
This post is intended for informational purposes only and should not be taken as prhttps://www.realtyexecutives.com/blog/wp-admin/ofessional advice. The point of view and opinions expressed in this post are those of the author and do not necessarily reflect the position of Realty Executives International. This post was written by Bailee Abell. Bailee Abell is a writer born and raised in California. A graduate of University of California, Santa Barbara, she loves reading classic literature, sipping warm beverages, and visiting theme parks every chance she gets. Find her at baileeabell.com.