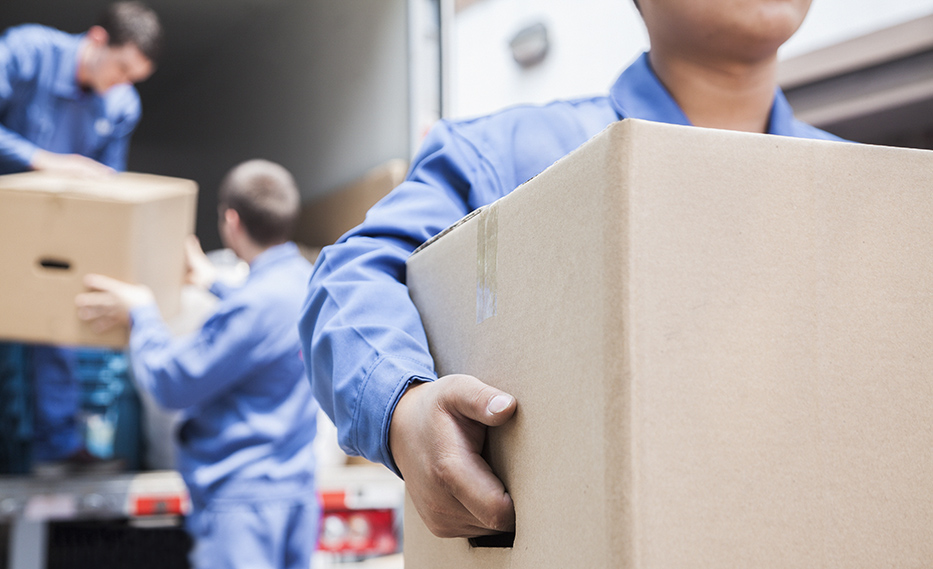 If you are preparing to move soon and trying to decipher whether or not hiring a professional moving company makes sense for your situation, take a look at some of the services that they can provide:
Packing
Perhaps the most dreaded task associated with moving, packing involves placing all your items in boxes, labeling the boxes, and then lifting and moving those boxes only to unpack them once more. For an additional fee, professional movers can help to ease the stress of this part of the moving process by showing up at your home with all the necessary supplies.They will pack your belongings safely (ensuring to delicately handle and wrap valuable items), securely (taking special care to protect the items packed in boxes), and efficiently (packing items with speed and labeling boxes).
Furniture disassembly and reassembly
This service is usually billed at an hourly rate when moving locally and a flat rate or predetermined fee when moving long distances.
Moving professionals will arrive prepared with all the items required to complete the job safely and efficiently. They will have:
The correct disassembly tools

Quality packing materials and supplies

Moving equipment

Personal protection gear

Property protection equipment

Experience handling furniture and other delicate pieces
Items that are typically disassembled by moving companies are extremely heavy or fragile, highly valuable pieces, glass or large furniture and other difficult to handle items.
Items that furniture movers may avoid disassembling include antiques, furniture that is glued or nailed together, pool tables, and other items that are not structurally sound.
Any furniture pieces that they disassemble at your old home, they will reassemble upon delivery to your new home.
Safe a secure transportation of goods
Reputable companies take extra precautions to protect your belongings and home from damage. They use wall and corner guards to prevent dings, scrapes and scratches in hallways, on moldings and walls. They also use carpet protectors, moving blankets, padding and plastic wrap to safeguard your home from damage.
While loading items onto the moving truck, movers work to protect items from breaking, moving and shifting during transport. They have access to securing equipment and they know how to properly use them.
Organization
While unloading, moving crews can effectively coordinate and place each piece of furniture in the correct room, as well as placing corresponding boxes where indicated, aking sure that each piece is properly arranged to your preference. Since movers are tasked with this job every day, they can assist with organizing items in your new home without damaging ceilings, floors, or walls.
Clean up
After the moving truck has been emptied out, the crew typically gather empty boxes, blankets, carpet protectors, dollies, and any other items used to secure furniture and belongings during the move. They should leave no trace of ever having been present in your home.
Storage
Moving companies can also provide the option to have your items unloaded at a storage facility, either their own or one designated by you. They will often take additional care to protect your possessions from moisture damage, pests or rodents, and other unforeseen annoyances.
Some companies will provide portable storage units for you to fill up with boxes on your own before they arrive on moving day.
Insurance
Professional moving companies are required by law to provide insurance for damage that can take place during the move (the rules are slightly different in Canada).
With that being said it important to make sure that the company you plan to use will provide enough coverage for your belongings. Prior to contacting the company compile a list of all your significant items of value (i.e. antiques, appliances, artwork, cameras, electronics, furniture, etc.) then give each item a replacement value and total it up. Take pictures of these items for proof that will be useful if a claim has to be filed.
Before hiring a moving company thoroughly investigate their insurance coverage:
Find out the type and the amount of liability insurance they provide.

Carefully assess the moving contract for the estimated value of your possessions, then compare their value to that of the list you compiled.

Establish the maximum value the moving company's insurance will cover in the event that your items are damaged or destroyed. Then compare that amount to the amount on your list and determine whether it's enough to replace your items.

Ask the company about the details of their process for submitting an insurance claim.

Do your own research and investigate if the moving company has any pending or unresolved claims.
Provide in-home estimates
Most moving companies will send a relocation specialist to your home to take inventory of the items that you plan on moving to your new residence. This procedure is done so that the company is clear on the scope of the work involved. Taking inventory before moving day saves time, ultimately benefiting both you and the movers alike. The relocation specialist should be assessing and taking note of the following key elements:
The approximate weight of the items you intend to move

Packing challenges that may arise, such as antiques, cumbersome furniture, or large appliances etc.

Moving day challenges like driveways with restrictions, long flights of stairs, or out-of-order elevators etc.
The in-home estimate also provides the moving company with the opportunity to assess the overall condition of your property and provide an accurate estimate or quote, in most cases free of charge.
There is more to the moving process than what actually meets the eye, and partnering with a professional moving company has advantages that can reduce stress while saving time and energy.
This post was written for Realty Executives by Ashley Neal. Ashley is a freelance content strategist focused on writing about, real estate, interior design, health, fitness and luxury for almost a decade. Ashley's work has appeared in a number of digital and print publications including Blasting News, CBS Local Atlanta, Atlanta Business Chronicle and Huffington Post. She has also contributed to and/or been mentioned on a number of well respected media platforms including; Forbes, Small Biz Trendz and Biz Sugar.