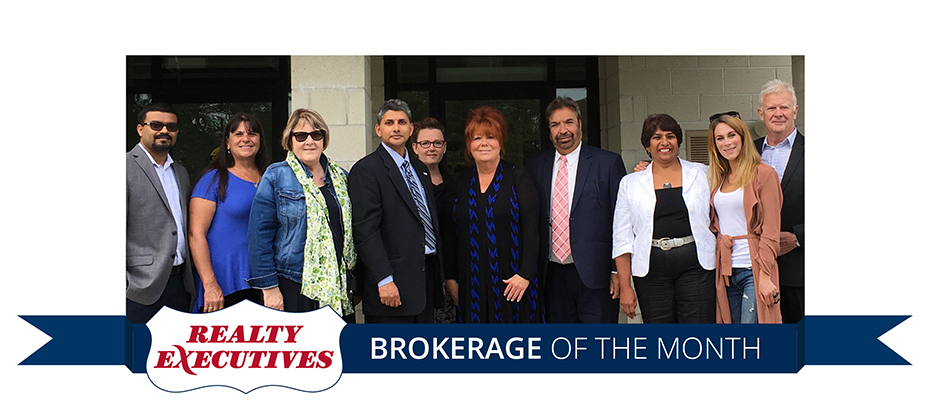 Realty Executives Edge has been named Brokerage of the Month for July 2017 by Realty Executives International. With Broker of Record Nelson Mathew at the helm, the firm has expanded into the thriving city of Cambridge, located in southwestern Ontario. As recognized in the July issue of REM magazine, Realty Executives Edge now welcomes Executives in two branch office locations in Ontario, including Guelph and now Cambridge.
"Our brokerage is growing bigger and getting better each and every day.  We have experienced excellent growth at our Guelph office. We are at a point where we've decided to not only open a new and larger Guelph office, but to extend our reach of service further to Cambridge," Mathew explains, who has seen his team of real estate professionals increase by more than 40 percent since the first of the year.
Multilingual himself, Mathew leads a diverse group of agents with poise and a "quiet but effective" demeanor.  Overall, nine language fluencies are represented between all of the real estate professionals in the firm. "Our office has a great mix, including real estate veterans with over 30 years of experience working alongside agents who are new to the industry. We are both multi-generational and of various ethnicities. ​Our members are involved in a variety of community groups and charitable organizations that enrich both the neighborhoods we serve and the real estate industry locally. We strive to serve our diverse, multicultural community on a variety of levels beyond the real estate transaction," Mathew explains.
In support of Diabetes Canada, the team at Realty Executives Edge comes together annually to promote a Clothesline Program designed to collect household items for donation.  "Last year our members ran the clothesline campaign in local farming communities, dropping off plastic bags to families that are moving so they could easily donate items like clothing and household items. We pick up the bags of donated items from the homeowner and deliver them in support of the movement to end the diabetes epidemic," Mathew said.
At the industry level, the team is in the process of setting up a REALTOR® ​Development and Training Centre and plans to move to a larger office space in Guelph to accommodate growth by the end of the year. The move will complement the recent expansion into the city of Cambridge, which has experienced rapid growth in recent years, and is known as a sought after start-up location. "Our brokerage fees are competitive but it is the training and mentorship that is at the forefront of our success. We care and support our members and they in turn help us attract a wide range of real estate professionals to our office," says Mathew.
Mathew joined Realty Executives in 2014 after working as a sole proprietor for more than a decade. "I knew I needed to align with a company that would provide the resources and training I would need to build a brokerage," he said.
"Broker/Owners come in many different shades. Nelson brings to the table a vision for what he wants to achieve, a willingness to invest in his goals and a persistence and work ethic to make it all happen. More outstanding, however, is his understanding that success is based on his ability to create an environment for his agents' success. As a Regional Developer, one of our best testimonials is the success of one of our Broker/Owners," said Brian Gilmour, Vice President of Franchise Development at Realty Executives Regional Ontario.
Gilmour believes that the growth of Mathew's Guelph office demonstrates the value of a partnership between a Broker/Owner and a company that are both committed to serving their public's best interests.
Representing part of the Realty Executives Edge team, pictured above from left to right: Jaibu Joseph, Debora Patterson, Jan Henderson, Nelson Mathew (Broker of Record), Rebecca Puckett, Laurie Hasson, Amarjith Furmah, Gloria Shoon, Lindsay Palo, and Noel Myers.