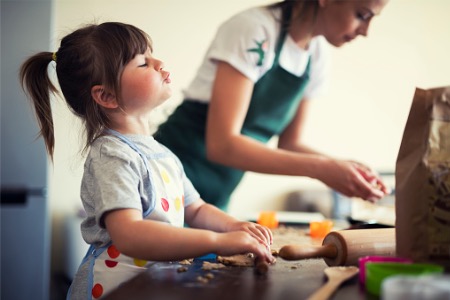 Are you looking for ways to get your kids more involved in meal time? It can be hard to find recipes that are safe, easy to make and tasty for the whole family, but with these kid-friendly recipes, you and your children will be cooking up a storm in no time! Whether they are looking for a snack after school or want to make their own lunch while learning virtually, we've got you covered for all times of the day.
Breakfast
Oatmeal Cookie Smoothie
A healthy and easy snack for your kiddo to make is a smoothie. Of course, you can always switch up ingredients if your child likes a certain type of fruit or veggie, but another sweet treat is the oatmeal cookie smoothie. To have the family involved, go ahead and place all the ingredients on the table with the right measuring cups and then have your child scoop everything up and dump it in a blender. It's safe to make and yummy to taste!
Ingredients: rolled oats, raisins, pumpkin pie spice, milk, vanilla yogurt, brown sugar
Snack Time
Continue reading