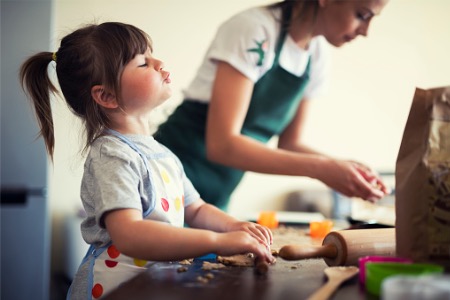 Are you looking for ways to get your kids more involved in meal time? It can be hard to find recipes that are safe, easy to make and tasty for the whole family, but with these kid-friendly recipes, you and your children will be cooking up a storm in no time! Whether they are looking for a snack after school or want to make their own lunch while learning virtually, we've got you covered for all times of the day.
Breakfast
Oatmeal Cookie Smoothie
A healthy and easy snack for your kiddo to make is a smoothie. Of course, you can always switch up ingredients if your child likes a certain type of fruit or veggie, but another sweet treat is the oatmeal cookie smoothie. To have the family involved, go ahead and place all the ingredients on the table with the right measuring cups and then have your child scoop everything up and dump it in a blender. It's safe to make and yummy to taste!
Ingredients: rolled oats, raisins, pumpkin pie spice, milk, vanilla yogurt, brown sugar
Snack Time
Apple Granola Snackers
Snack time always comes around with kids at home or during a break at school, so it's important to have something healthy but also quick and not too filling before lunchtime. These apple granola snackers are perfect to mix a serving of fruit with a little sweetness on top. And the kids can have fun spreading the peanut butter and adding the toppings all by themselves. Also always keep in mind that if your family has a peanut allergy, you can always substitute for sun butter. 
Ingredients: apple slices, peanut butter or alternative, granola, cinnamon sugar
Lunch
Pinwheels
Lunchtime can be a bit hectic if everyone is working from home and trying to do at home schooling, but if you find something everyone can prepare and pop on a plate and enjoy, you are good to go. A great option for that are pinwheels. Pinwheels are traditionally made with cream cheese spread on a tortilla and then add the type of sandwich meat and veggies you like. Have your child choose three things they want to include, help them put the toppings on evening and then let me roll it up and place it in the fridge.
Ingredients: any type of tortilla, plain cream cheese, lettuce, favorite veggies, favorite deli meat
Dinner
Kabobs
Once dinner comes around, it can be hard to muster up the energy to make an extravagant meal but kabobs can be a good option that everyone can be happy with whether they are a fan of steak and chicken or a vegetarian. These are also a great option if your family likes to grill! Even though the kids will have to stay away from the hot grill of course, they can still have just as much fun putting the ingredients on the sticks and handing them off to the grill master.
Ingredients (just suggestions, make it your own): peppers, chicken, steak, onion, sweet potatoes
Mini Lasagna Cups
Not looking to grill? No worries, try this yummy and hearty meal of lasagna cups. Lasagna is delicious but can be hours of prep and cook time. This recipe allows for that great Italian taste but has the work and smaller portions so you don't feel wasteful throwing out tons of leftovers. 
Ingredients: spinach and cheese ravioli, chopped tomatoes, garlic, seasoning, mozzarella and parmesan cheese
No matter what you and the family are craving, make mealtime the best time. Cooking at home and all together will not only bring you closer together, but can help you eat healthier and save money by staying home. For exact measurements or more kid-friendly recipes, visit foodnetwork.com.