"The more original a discovery, the more obvious it seems afterwards."
–  Arthur Koestler, novelist
Realty Executives honors top performers in attendance at annual event
Dale Rector started out with an innovative concept of 100% commission for agents. But little did he know that when he began a company, he'd really be revolutionizing the real estate industry.
More than 100 attendees from all four corners of the U.S., across Canada and even attendees from Mexico and Turkey came to Scottsdale to celebrate 50 years of innovation at the 2015 Realty Executives International Broker | Owner Conference.
The strides in technology, the Realty Executives brand as well as interactive networking and roundtable discussions were held, but the (surprise) highlight of the event were the Culture of Excellence awards. Realty Executives International started a new tradition at this year's conference by celebrating top performers in attendance with a variety of awards recognizing growth, retention and excellence in real estate.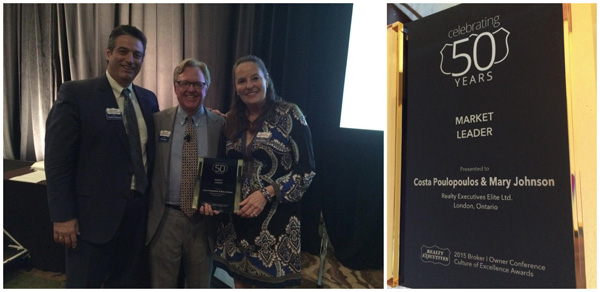 Awards included:
2015 Special Recognition: Awarded to Len Huck, the former president of Valley National Bank who gave Dale the first loan to start Realty Executives.
2015 Founder's Award: Awarded to June Rector for her role in the creation and legacy of Realty Executives.
Agent's Choice:

Award winners represent stability, consistency and retention. Each company represented boasts more than 20 Executives that they have retained year-over-year.

Homes from the Heart Hero: Awarded to Steve and Nancy Summers of Realty Executives of Kansas City for their extended charitable support for Habitat for Humanity within the Kansas City area.
Fastest Growing:

Award winners have 10 or more Executives in their brokerage and have grown by at least 15% or more during the last year.

Market Leader:

Award winners hold major market share in their communities with more than 100 Executives in their brokerage.

Extraordinary Brokerage: Awarded to Jeff Murtaugh, Jeff Hawke and Joel Moyes of Realty Executives Phoenix for their leadership throughout the transition of Realty Executives Phoenix in the last year.  
For a full list of winners, click here.