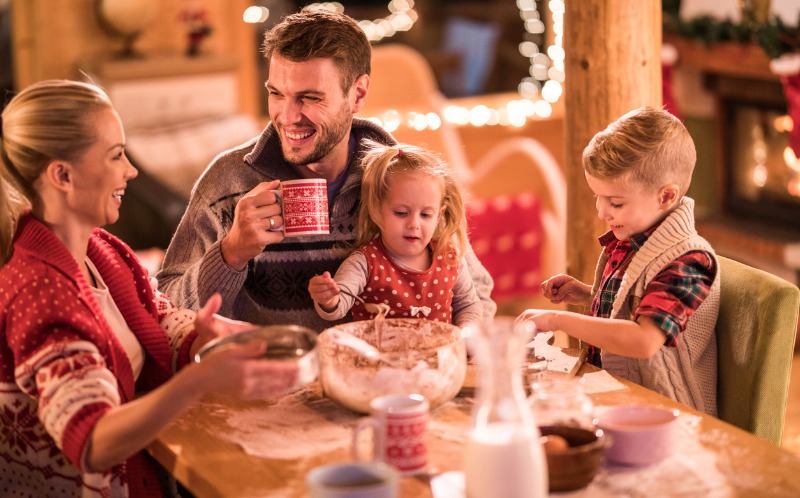 Snow days can be a relaxing escape from work or school… or they can cause you to feel trapped indoors for hours on end. No matter your opinion on snow days, we can all agree that sometimes, spending an entire day (or multiple days) indoors can bring on a wave of boredom for your family. But a snow day doesn't have to be boring! Here are our tips for how to have the best day ever when your family is snowed in.
Get cozy
Feeling stuck inside all day can be cold and dreary, so if you know you're snowed in this winter, start your day by getting cozy. Light some candles, put on your coziest sweatpants, and start a fire, if your home has a fireplace. Creating a cozy space will help you and your family feel happier. Winter can be the coziest time of year, after all.
Camp out in the living room
Turn your living room into a campsite! Bring all of your warmest blankets and fluffiest pillows into the living room and create a comfy, cozy area to camp inside. You could even build a blanket fort with your kids. Once you've created your makeshift campsite, have a movie marathon or play some board games.
Cook some comfort food
Is there any better meal than a hearty soup on a cold winter day?Break out your old slow cooker and cook up a hot meal that can feed your entire family (or yourself for multiple days!). Cook your favorite stew, soup, or roast, and embrace the delicious smell of home-cooked food as it fills your home. Bake until your heart's content. Go on a baking spree and whip up some of your family's timeless recipes. Bake some desserts for your neighbors, try your hand at a new recipe, or re-purpose the fruit in your fridge and bake some banana bread or an apple pie. If you have kids, have them help you! You can bake cookies together and your kids can have fun decorating them.
Indoor snow painting
A fun twist on a snow day activity is painting snow. But warning: this may get messy! Set up a painting station by covering your dining table in newspaper. Grab some shallow baking pans or casserole dishes and fill them with clean snow. Then, mix food coloring with water to create your paint, give your children paint brushes, and have at it!
Have an indoor scavenger hunt
Unleash your inner child with an indoor scavenger hunt. Whether you set this up for your kids, your roommates, or your significant other, you're sure to have a great time. Hide a treasure somewhere in your home and create clues for how to find it. You'll have so much fun writing the clues, and your family will love participating!
Have fun outdoors
If you can't escape the snow, embrace it! Have fun playing outdoors in the winter wonderland. Build a snowman, have a snowball fight, or even make a game out of shoveling the snow off your driveway and sidewalk. Embrace the winter weather and have fun with it. Not everyone gets to experience the magic of a snow day!
This post is intended for informational purposes only and should not be taken as professional advice. The point of view and opinions expressed in this post are those of the author and do not necessarily reflect the position of Realty Executives International. This post was written by Bailee Abell. Bailee Abell is a writer born and raised in California. A graduate of University of California, Santa Barbara, she loves reading classic literature, sipping warm beverages, and visiting theme parks every chance she gets. Find her at baileeabell.com