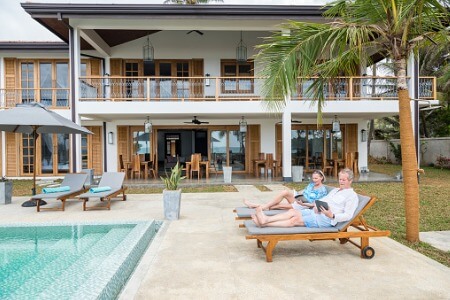 Owning a vacation property can enhance your life and give you the chance to retire to a location you enjoy. But it's not something to be done without plenty of preparation and a full understanding of the benefits and disadvantages of dual property ownership. If you're a senior, you must be especially diligent in selecting your second home.
Here are six boxes that should be checked before finalizing your investment:
Purchasing my second home will not put my first home and risk.
Even if you plan to move into your vacation home at some point, you should not let this purchase put your stability in danger. You should be in a financial situation that will allow you to continue to make your mortgage payments on your primary home even if circumstances force you to sell your vacation property at a loss.
My vacation home has the potential to create income.
If you're attracted to a certain area, there's a good chance many others are as well. Take the time to research properties in your desired area and compare your top picks with similar vacation rentals. You may be able to recoup a significant portion of your investment by renting your property. Just make sure to consider any additional repairs or modifications that may need to be made before renting out your home. While there are some fixes you can do on your own, for larger projects, you'll likely need to hire a contractor. Make sure to clearly articulate your vision and budget. You'll also have to maintain your property. This can include everything from hiring a cleaning and lawn-mowing service to regularly changing out your air filters.
I understand all the costs.
Whether you keep your home private or turn it into an income property, there are numerous costs associated with the second homeownership. HOA fees, insurance, furnishings, utilities and taxes are just part of the equation. You'll also be on the hook for year-round maintenance, which, if you don't live nearby may need to be outsourced. Insurance costs are higher for second homes, but adding a fire alarm and security system (basic plans start at $39.99 a month) may help lower your bill.
I have the time and desire to visit often.
Unless your home is a rental, it will be money wasted if it sits empty. Make sure the home is in a convenient location and one you want to visit at least every other month. One of the worst things you can do is allow your property to remain unoccupied for extended periods. American Integrity Insurance Group explains why prolonged vacancies may leave you responsible for otherwise covered damages incurred even if you pay your insurance premium.
The home matches my lifestyle choices and abilities.
One of the most important things to consider when deciding on a vacation home is whether or not the home aligns with your personal lifestyle choices and current and future physical abilities. If you have mobility concerns, for instance, you may want to avoid a home or condominium that requires navigating stairs. Likewise, if you prefer walking to driving, the home should be located in close proximity to the amenities you most desire, including grocery stores, restaurants, and recreational facilities. Zillow Porchlight delves further into the topic in this brief vacation home buying guide.
I have partnered with an experienced real estate professional.
Unless you're a licensed real estate agent, you should never enter the world of home buying alone. Interview local agents to determine which individual has the skill set – and track record – to help you get into the home of your dreams. A buyer's agent will not only take the time to understand your needs, but will also perform independent research and eliminate properties that don't fit your criteria. They will help you negotiate price and should be able to put you in contact with other professionals, such as home inspectors and real estate attorneys, that can keep the process moving smoothly. Realtor.com also notes that a buyer's agent will have experience in providing productive solutions to setbacks, such as an unexpectedly low appraisal or issues found during the inspection.
A vacation home is an investment in yourself and your future. Don't rush into it and remember the market is ever-changing. Your perfect home may not be listed just yet so keep your eyes open, your finances in order, and your schedule flexible.