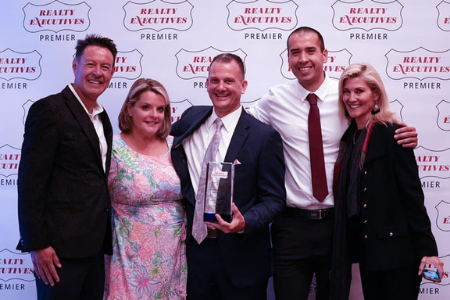 Realty Executives Premier, of Valparaiso, IN, was recently honored as Realty Executives International's Extraordinary Brokerage of the Year for 2020. The award is given annually to the brokerage who exemplifies the Realty Executives brand through growth, culture, technology and the continuation of forward thinking leadership.
Realty Executives Premier, with three offices and over 100 agents, is led by Broker/Owner Mike Tezak and his wife Pam Tezak, who have been with the Realty Executives network for over 10 years. Opening in 2008, the Indiana brokerage has become one of the most successful and productive brokerages in their local market and within the Realty Executives brand, being recognized by industry sources such as the RisMedia Power Broker Report, Swanepoel 1000 and REAL Trends.
As the number one brokerage in Porter Country, Tezak and his team are known as the local experts and have continued to recruit top talent and increase in transactional sides and sales volume throughout the years through their dedication to mentorship and support.
"We are so grateful for the team we have built and the commitment they have shown to being the best they can be for not only their clients but for their fellow Executives as well," Mike Tezak said. "Our brokerage is like a family and as a Broker I strive to integrate that culture with unwavering support and innovation."
The Realty Executives International team is proud to recognize the entire Premier team for their incredible year.
"We are so happy to honor all the hard work of our Executives and Broker/Owners every year with our Realty Executives Excellence Awards, including the Extraordinary Brokerage of the Year," Patrick van den Bossche, President of Realty Executives International, said. "Pam and Mike have been incredible leaders to partner and grow with and we cannot wait to see what the future holds for their business. Congratulations to Realty Executives Premier, you deserve it!"
For more information or to contact Realty Executives Premier, visit https://www.realtyexecutives.com/office/premier.