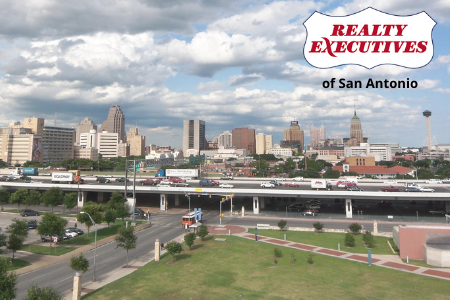 Realty Executives of San Antonio is proud to announce a renewal with the Realty Executives brand, continuing on the legacy built by Broker/Owners Rick and Mavis Brown.
Opening in 1993, this renewal marks over 25 years with the international real estate franchisor for the Texas brokerage. Realty Executives of San Antonio has been a stronghold in the local real estate market over the years, recruiting only the most qualified agents looking to build a successful and long-term career in real estate.
"Rick believed in quality over quantity and that will never change," Designated Broker Charlie Ruffo said. "Our office is made up of true professionals that care about their community and the clients that live there. Their commitment to exceptional customer service and being the local expert is the driving force behind our success."
Ruffo has been with the Realty Executives team for 10 years, and began to take on a large leadership role within the past few years, alongside Mavis Brown. A certified instructor with the Texas Real Estate Commission, Ruffo is an outstanding asset and mentor to the San Antonio team and Realty Executives brand. Through his certification, Ruffo teaches several continuing education courses and qualifying classes to receive a real estate license.
"A large part of what makes our team members stand out is their dedication to continued education, allowing them to increase their knowledge and best serve their clients," Mavis Brown said. "Charlie, Executive Director Karen [Critchlow-Hernandez], and the entire team at San Antonio have shown this dedication time and time again, and it has helped them provide continual top tier service in the market and create a brokerage where industry leaders thrive."
Brown, a real estate professional for over 30 years, recently took on the lead business role, after the passing of her husband and Broker/Owner Rick Brown. Rick Brown was a staple in not only the office but in San Antonio real estate, always doing business with purpose and passion. Brown was also a Regional Developer for Realty Executives International, helping grow the Realty Executives name and reputation in untapped markets throughout Texas. 
"Rick was a born leader, who exemplified the type of entrepreneur we strive to have on our side; focused, passionate and tenacious," Patrick van den Bossche, President of Realty Executives International, said. "It was an honor to work alongside him and we are grateful to see his legacy move forward,  bringing new opportunities to the Executives whom he guided and influenced for so many years."
Brown, Ruffo and Critchlow-Hernandez are optimistic about the future of the brokerage, and excited to continue to be the destination company where industry leaders gather, feel at home, and succeed. Their goals as brokers and leaders is to provide their agents with the best resources and be accessible for any and all needs.
Centrally located in the heart of San Antonio, the Texas brokerage is proud to be a part of clients' home journeys. With 40 agents on board and eager to help, Realty Executives of San Antonio is an example of success through hard, quality work and community-focused purpose.
For more information or to view current San Antonio home listings, visit https://www.realtyexecutives.com/office/san-antonio.