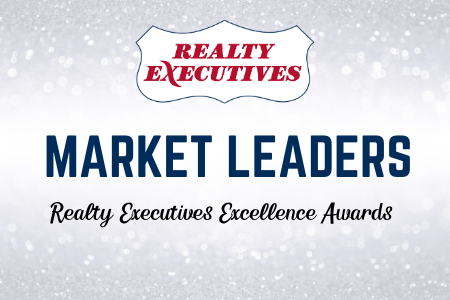 Realty Executives International is excited to announce the 2020 recipients of the Realty ExcellenceⓇ Market Leader awards. Eleven Realty Executives brokerages were honored for their commitment to growth, expansion, and productivity in their local communities. 
The annual Market Leader award is given to franchisees with 100+ agents, or 20-plus percent market share (based on transactions in the MLS). This year's winners include: 
2020 Realty Executives Market Leaders
Realty Executives Phoenix & Yuma- Jeff Hawke, Joel Moyes, Eden Sunshine
Realty Executives Associates- Steve Fogarty, Justin Bailey, Pat McGill
Realty Executives Arizona Territory- Jeff Murtaugh, John Dwyer, Mark Shinn
Realty Executives Exceptional Realtors®- Doug Radford, Kyle Poskitt
Realty Executives Integrity- Dale Schaechterle
Realty Executives of Kansas City- Steve and Nancy Summers
Realty Executives Santa Clarita- Jim and Janus Tanner
Realty Executives Home Towne- Frank Locricchio
Realty Executives Edge- Bill and Susan Cole
Realty Executives Saskatoon- Wayne Zuk
Realty Executives St. Louis- Chris Matoushek, Todd Matoushek
Realty Executives International is proud to associate with brokers, teams and agents across the U.S. and Canada that have shown exemplary leadership, customer service, and commitment to excellence in their markets. Being named a market leader is a testament to the time and effort invested by each organization to ensure agents and home buyers and sellers receive top tier service.
"Our Market Leader award is given to those who have demonstrated that not only can they represent the Realty Executives brand, they attract the best of the best. Our Broker/Owners have achieved tremendous growth through entrepreneurship, a passion for real estate and go beyond to support their Executives." Patrick van den Bossche, President of Realty Executives International, said. "Each brokerage recognized is a pleasure to have on our team and we are excited to see the further accomplishments they undoubtedly will achieve."
To contact any of these brokerages to learn more visit, www.realtyexecutives.com.