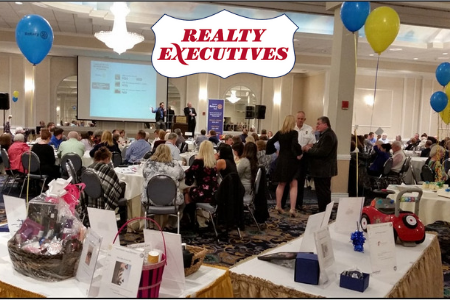 Realty Executives Midwest believes in giving back to the community in which they live and work. Recently, Broker Joan Wayman assisted in organizing the Rotary Club of Darien, Illinois' Taste of Route 66 event. This annual event features local restaurants who create delicious samples for ticket holders. People are also able to bid online to purchase donated items. All proceeds benefit a local Food for Kids Program put in place to help food-insecure children bring meals home on Fridays during the school year, as many families may be dependent on school sponsored lunches. Every six weeks, Wayman coordinates the Rotary Club members and local volunteers to buy and pack over 1,100 food bags for school social workers to privately place into the children's backpacks. This years, the Taste of Route 66 event raised over $31,000 to help buy and pack nutritional meals for 200+ elementary students.
Jana Pinc, managing Broker/Owner of Realty Executives Midwest came to support Wayman and the cause, saying she is proud to work with not only the top real estate professionals in the industry but with those who support the community they work in.
"I am so happy to be able to contribute to this very important cause," Pinc said. "I feel humbled by Joan's efforts, and would like to applaud her and the rest of our team who showed their support this evening. As always, we're grateful to be able to take part in local fundraisers and honored to give back to all of those in the community that support us with their business."
After several years of a successful and worldly mechanical engineering career, Wayman decided to start her second career in real estate while raising her children. Wayman originally bought her first rental at just the age of 25 so while receiving her Master's degree in Business Administration, she decided she would dive deeper into real estate investing and take real estate focused courses. After confirming her love of the real estate industry and offering help to family and friends, Wayman received her real estate license in Illinois and has been building her career ever since.