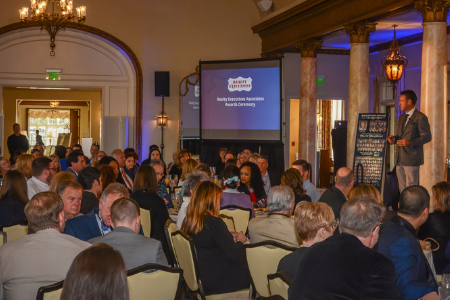 Realty Executives Associates, the prominent and market leader brokerage in Knoxville, is celebrating 40 years with Realty Executives successfully serving the residential needs of the East Tennessee community. Led by President Steve Fogarty and his partners, Pat McGill, Tony Rodgers, Greg Cates and Susan Varner, Realty Executives Associates has seen decades of growth and continues to be one of the most productive and professional brokerages of Realty Executives and in its market.
"I commemorate and congratulate Steve Fogarty, his partners and the entire Realty Executives Associates team for being prime examples of a power-house brokerage with agent-assist services, marketing experts, industry partners and top-notch broker support," said Realty Executives International President Patrick van den Bossche. "Their accomplishments were not by accident and we are extremely proud they have chosen Realty Executives as their home for the last 40 years, and we look forward to many more together."
"It is a great honor to have served the greater Knoxville community as Realty Executives for 40 years with our top-producing agents," said Fogarty. "Realty Executives Associates success is rooted in culture and our commitment to our people in providing the best, environment, tools and services to our agents for their success."
Since its founding in 1979 by Vance Burkey, the brokerage has grown exponentially, with over 600 real estate professionals serving nine counties of Tennessee. Soon after its establishment, Steve Fogarty took over the leadership team at Realty Executives Associates, promoting top technology and the individual success of agents. The brokerage began to surpass its competition quickly by becoming the number one in market share in the Knoxville area by 1985.  Associates has held that spot for over three decades, generating more than twice the sales volume of its closest competitor and greater than the top three competitors combined.
This last year, the brokerage saw over $1.8 billion in sales volume and over 8,000 transactions, making it a top 10 brokerage throughout the entire Realty Executives brand and the highest ranked Realty Executives brokerage in the 2019 Real Trends 500 report. In addition, they ranked 61st in the nation in the RISmedia Annual Power Broker Report and were the recent recipients of the 2018 Realty Executives Extraordinary Brokerage Award, presented at the annual conference in October.