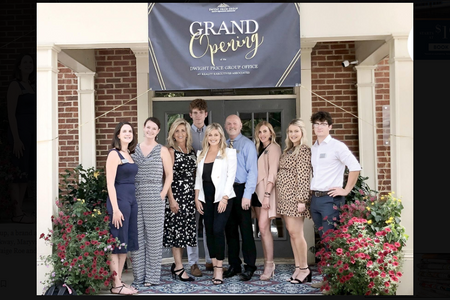 Realty Executives Associates is pleased to announce it has expanded its regional footprint with the addition of the Dwight Price Group, based in Maryville, TN. The newly renovated offices of the Dwight Price Group are located at 537 W. Lamar Alexander Parkway, Maryville. Having worked in the Foothills area for 20 years and serving in Blount, Knox, Loudon, Monroe, Anderson and Sevier Counties, Dwight Price, his daughter Sara and the entire group knows the local real estate market and is ready to lend their expertise to home buyers and sellers. Since 1980, the Dwight Price Group has provided Maryville and surrounding areas in Tennessee with the full real estate experience, offering a full complement of services and specialists to help homeowners buy and sell their properties.    
"We chose Realty Executives because they have the systems and tools designed for the productive real estate professional, maximizing potential for our success," said Price. "I also wanted a company without limitations and Realty Executives allows me to run my business my way, with full support." 
Realty Executives Associates is the prominent and market leader brokerage in the greater Knoxville area. Recently celebrating 40 years with Realty Executives, the brokerage has grown exponentially, with over 600 real estate professionals serving nine counties of Tennessee.
Led by President Steve Fogarty and his partners, Pat McGill, Tony Rodgers, Greg Cates and Susan Varner, Realty Executives Associates has seen decades of growth and continues to be one of the most productive and professional brokerages of Realty Executives and in its market.
The brokerage has been number one in market share since 1985, generating more than twice the sales volume of its closest competitor and greater than the top three competitors combined. This last year, the brokerage saw over $1.8 billion in sales volume and over 8,000 transactions, making it a top 10 brokerage throughout the entire Realty Executives brand and the highest ranked Realty Executives brokerage in the 2019 Real Trends 500 report. In addition, they ranked 61st in the nation in the RISmedia Annual Power Broker Report and were the recent recipients of the 2018 Realty Executives Extraordinary Brokerage Award, presented at the annual conference in October.