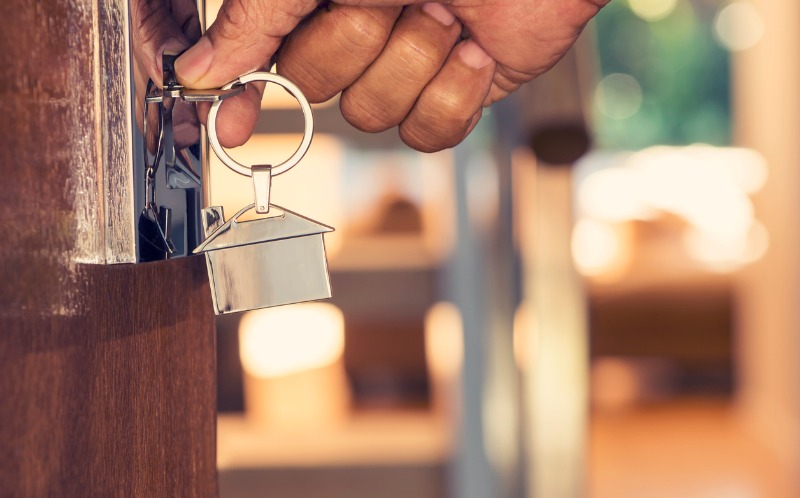 Working in real estate may seem like a safe and secure career to most, however, those who have careers in the real estate industry know there are many dangers to the job. Real estate agents are susceptible to robberies, attacks or even kidnappings. Most of an agent's work does not give them the security of an office, making them easy targets.
On March 14, 1983, John Madsen, a real estate agent for Realty Executives in Scottsdale, disappeared and was never seen alive again. Madsen had met with a man claiming to have inherited 10 acres of land with a home, just north of Scottsdale. After a brief meeting, Madsen and the man drove off to see the property.
Eight months later, Madsen's body was discovered in a shallow grave in the desert north of Scottsdale. His killer was captured and prosecuted.
September is REALTOR® Safety Month and while agents should always be mindful of their surroundings, this month is a great time to share top tips for being aware in the field.
Be Aware of Your Surroundings
Situational awareness is key for being safe on the job. Wherever a REALTOR® goes, they should always consider two things; do I know the place? And do I know the people? You are at your safest when you know the people and the place you're in and you are the most vulnerable when you are in a place you don't know surrounded by people you don't know. No matter your level of awareness, you should always let someone know where you are going to be and who you are going to be with. Consider sharing your cell phone location in case of an emergency, that way someone will know where your last location was at all times.
Create Procedures for Open Houses and House Tours
You never know who may walk into an open house event. Open houses can be targeted by drug abusers or people who are looking to cause harm to individuals. Without set procedures for these events, agents and REALTORS® are creating an extremely dangerous setting. When planning an open house consider the following:
        Arrive early: make sure you have everything staged and set up before potential buyers start arriving.

        Bring someone with you: Rather than showing up alone and making yourself an easy target, bring another

REALTOR®, friend or a spouse for extra security.

        Know all of your exits: Before allowing strangers to enter the house, know where all of the exits are located. Ideally, you will want to have a clear path to any exit at all times. Try to keep yourself between a potential buyer and an exit.

        Never lead when giving a tour: Direct the house guests around the property and follow behind. Be especially mindful when walking into rooms. You never want to be cornered.

        Hide or lock away all items that could be dangerous including weapons, medication, money or jewelry.
Take Self-Defense Courses
Taking self-defense courses will provide tremendous value when it comes to protecting yourself. If you are alone and become a victim to an attack, you need to know how to defend yourself from an attacker. Realty Executives of Phoenix and Yuma recently had a REALTOR® Safety Month seminar and self-defense training session. The brokerage invited internationally known krav maga defense specialist, Matt Numerich, to speak about awareness and teach simple defense mechanisms that can be used by people of all ages and athletic abilities.
"It's important for them to have very simple and direct tools ranging from usable weapons like pepper spray, to hand-to-hand self-defense techniques for them to get themselves out of a bind if that situation ever present itself," Numerich said. "I think the main thing is they need to build good awareness. I think especially for real estate agents, as busy as they are, they just aren't aware of their surroundings."
"Therefore, not only being aware of their surroundings but also in-tune with people's body language. I think it helps people protect themselves against prospects who may not have the best intentions in mind, or, obviously, in certain settings where properties may be located in."
Numerich believes confidence is another great tool for self-defense. He says that confidence may make a perpetrator give a second thought if you are the only target to attack.
Establish a Relationship with a Reliable Colleague or Friend
As a REALTOR®, you should never go anywhere without letting someone know the details of your travels. You may be right down the street or you could be an hour away. However, if something detrimental were to happen, a reliable safety resource is a necessity. This resource should be willing to pick you up if need be or even stay at a listing with you.
Download a Phone Security App
There are many apps you can download for free on your phone to help stay say while working in the field or enjoying down time. A few greats apps are Circle of 6, Watch Over Me, and React Mobile. Circle of 6 gives you the ability to choose six people to take part in your security circle. Press the danger button and they will be alerted. Watch Over Me is also a great tool; with this app you don't need to hit any buttons, simply shake your phone and the app activates the alarm, sends out an alert and activates your camera. Lastly, React Mobile doesn't even require you to have a phone with you. The application is paired with a keyring device, which is the perfect tool if you can't get to your phone.
REALTOR® Safety Month is a great time for all real estate professionals to evaluate how safe their practices have been. Although this month is specifically designated for safety awareness, REALTOR®  safety is important all the time.