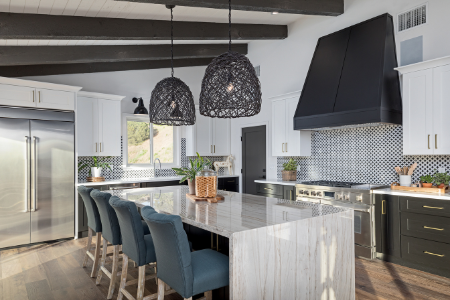 Whether you're an avid chef or just enjoy cooking family meals, your kitchen receives tons of traffic throughout the day. Because you use it so often, you may want a stylish space – especially if you like entertaining. Here are seven design trends for those looking to make some upgrades.
1. Focusing on Sustainability
Many homeowners are paying more attention to eco-friendly designs. As climate change continues to be a concern, taking care of the environment is essential. In fact, 38% of people who remodel their homes want energy-efficient upgrades.
These can include low-E windows, insulation, and high-efficiency HVAC systems. Adding energy-efficient appliances can also reduce carbon emissions.
Here are a few more ways to increase sustainability in your kitchen:
Use green materials such as stone, bamboo, or reclaimed wood.
Decorate with vintage pieces.
Repurpose items from demolition, such as cabinets.
Buy eco-friendly cleaning supplies.
2. Creating Zones
More people work from home than before, so having separate spaces is very helpful. It allows for a more organized room and a better flow — by thinking in zones, you can designate areas for cooking, dining, and socializing, even if you don't have a lot of extra space.
Suppose you live in a smaller home. Your kitchen might need to double as a temporary home office or a craft space for kids, so add a built-in folding desk and additional wall storage to increase the room's functionality. This way, you can seamlessly transition between cooking, eating and other activities.
Want something more creative? Consider adding glass partitions. They give you an open concept feel and let in more natural light while keeping your kitchen distinct from other spaces.
3. Mixing Different Materials and Colors
Another kitchen trend is mixing materials. Mixing materials can provide a more engaging design. Why? Mixing and matching adds some textural interest and allows you to be more creative with your design choices. For example, pair matte cabinets with glossy countertops, or contrast textured wallpaper with painted surfaces.
Another fun mix is playing with colors. Try a botanical wall cover with neutral-colored surfaces. For cabinetry, two-tone options can add visual lift to your kitchen space.
When combining finishes, have a dominant style to keep a sense of balance. If you don't know where to start, mixing metals and woods is an excellent option.
4. Designing with Country Style
Due to the pandemic, high numbers of people moved to rural areas and away from cities. During the first year of the pandemic, 2.9 million people moved out of populated areas. Many were working remotely and wanted more open space. With this shift, kitchen designs are starting to reflect a more rustic style.
A softer color scheme and natural materials, like wood, are common elements. Also, exposed beams and distressed brick creates a cottage-style feel. Pair these with metallic accents and statement lights for stunning contrasts.
5. Adding Softer Shapes
Gentler edges on surfaces create a more welcoming and elegant atmosphere. Plus, it's safer for children. Soft outlines are more aesthetically pleasing, creating a natural flow between objects.
Use rounded edges for countertops or dining room tables. You can also have curved seating, which encourages socializing. Cabinet hardware is another simple way to incorporate this trend. Metal rounded knobs can provide a classic appearance.
6. Using Patterned Tiles
Tiles are a popular feature in many kitchens, and adding it is a popular kitchen trend. Wall and floor decor is a great place to start if you're thinking about upgrades.
Because it's durable and water-resistant, tile is an excellent material to use. Patterned material can make your home unique. You can add style by choosing bold colors like pinks. If you want to go more subtle, blues are an excellent choice.
You can add tiles to your backsplash or flooring. Some more ways to incorporate tile include:
Covering walls.
Using it on the back side of your island.
Placing tile over your stovetop.
Accenting floating shelves.
7. Installing Smart Technology
Smart devices are rising in popularity. In the kitchen, this kind of tech includes dishwashers, refrigerators, and lighting fixtures. They can use less energy, lower utility bills, and provide more convenience. Many homeowners are also adding advanced technology to their outdoor kitchens, which are perfect for entertaining.
Here are a few devices to consider:
LED lighting.
HD weather-resistant smart televisions.
Audio/video systems.
Wi-Fi enabled barbecues.
Wi-Fi controlled heating features.
8. Decorating with Green
Green represents nature, which is a common theme in home design. During the pandemic, outdoor elements have provided a sense of peace. So it's no surprise that in 2022, homeowners are using a lot more green in their interior design, as it evokes nature and blends well with indoor plants and botanicals.
There's a variety of shades to choose from – you can go for bright green or muted tones. Consider the ambiance you're looking for when picking a color.
You can incorporate green into multiple elements. A few ways to add it to your design are:
Painting the walls.
Decorating with green seating.
Adding plants.
Painting your cabinets.
Refresh Your Kitchen with Popular Trends This Year
Finding the right way to update your home can be a little tricky. While you want a stylish space, you also want it to represent you. Kitchen trends are an excellent way to get some design inspiration, so follow these tips to create your dream kitchen.
---
About the Author: Evelyn Long is the editor-in-chief of Renovated, an online resource for the real estate market. Her freelance writing has been published by the National Association of REALTORS®, Insights for Professionals and other prominent industry magazines.