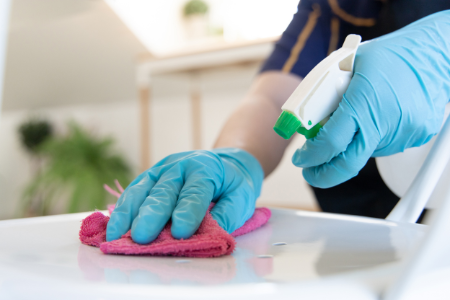 You want a clean home, yet you might hesitate over some of the cleaning products available in the market today. Many of them have harsh chemicals that can damage the surface of your floor, your countertop, or any other place you apply them to. Not only that, but you might not like the idea of living in a home covered in it. If you have small children, you might be hesitant with some of these cleaning products, too.
This article will name some of the best cleaning products that money can buy.
DIY Solutions
First, we should mention that you can make your own cleaner from products you have at home. Most homemade cleaners consist of baking soda, vinegar, and natural ingredients such as lemon zest, tea tree oil, or other additions to make your home smell great.
For example, you can make a base cleaner of 1 2/3 cups of baking soda, a half cup of liquid soap, a half cup of water, and 2 TBSP of vinegar.
Usually, these solutions work well for general cleaning. However, you might need something more robust for tough jobs. The cleaning products below are made from organic ingredients and have a powerful yet safe formula. This combination of natural and effective means you can clean without worrying about any side effects to your home or your health.
Seventh Generation Cleaner
This cleaner is among the highest-rated, available on Amazon and at Whole Foods. Their line of cleaners uses no harsh chemicals and instead uses all-natural ingredients. However, this cleaner is still quite powerful and comes in many different formulas, ranging from all-purpose to granite. It's affordable as well, meaning you don't have to pay those organic prices for some quality.
Puracy
If you want your home to smell lemony fresh, then Puracy is an excellent cleaner. It makes up to a gallon of cleaning solution, and its ingredients come from all-natural lemongrass and other wholesome ingredients. This cleaning solution is perfect if your surfaces need cleaning and is decently affordable. Try it and see how it works for you.
Bon Ami
One type of cleaner you may enjoy is powder cleaner. However, finding a powder cleaner that doesn't have harsh chemicals can be challenging. Luckily, Bon Ami is the solution. Bon Ami is made of five ingredients including limestone and baking soda. People love how powerful this cleaner is without their home feeling harsh.  It's a great option for homes with pets and children.
Method
Another popular cleaner is Method, an all-purpose cleaner that uses plant-based ingredients. Like many cleaners on this list, it comes in several scents- from honeycrisp apple, lavender, ginger yuzu, and more. The products are made with all-natural ingredients. In addition, it cuts through grease quickly, without requiring much effort from you. Online, you can buy this product in bulk, which means you will have enough to last a long time.
Ecover Dish Soap
You eat off your dishes, so you do not want a harsh cleaner that will affect where you eat your food. Ecover uses all-natural, plant-based ingredients and is biodegradable. Like Method, you can buy this in bulk to last a while.
Ecover is also beneficial because it can be an ingredient in homemade cleaners. Combine it with some baking soda, vinegar, and water, and you have a powerful cleaner that won't cover your home with harsh chemicals.
Biokleen Carpet Cleaner
Your carpet can be a hub for germs and stains, and increasingly so if you have pets or small kids. You may believe that you need to buy something extremely powerful to clean your carpet.
However, Biokleen has created a carpet cleaner that runs deep into your carpet, cleaning it of any dirt and resulting in a fresh, clean smell. Furthermore, it does this without any harsh chemicals, meaning it's one of the best on this list, in our opinion.
Ecos
Finally, we have Ecos, a cleaner made from organic ingredients such as tea tree oil. It's available as all-purpose cleaner, cream cleansers, stainless steel cleaner, and more.
Your restroom is one place in the home you always want clean, though it can be tough to get the toilet, shower, and sink spotless. Ecos manages to freshen up your bathroom by offering toilet cleaner, bathroom cleaner, and vinegar-based window cleaner.
We hope this article will help you fill your shopping cart with safe, family and pet-friendly cleaning products. There are many options to choose from that can help you tidy your home without worry.
Please follow and like us: