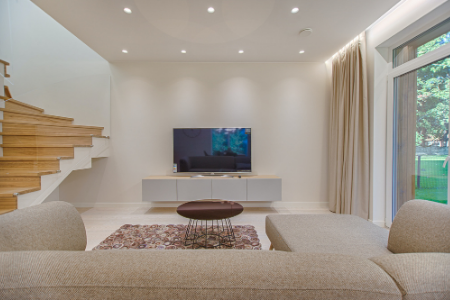 Are you trying to create a contemporary-style living space? It is tempting to think that contemporary interior designs are cold, dark, and overly minimal. But that's far from the truth! You can create a contemporary-style living space that is comfy and inviting, and at the same time, well-illuminated and neat.
So, what are the crucial elements of a contemporary living space? Let's dig into them one by one.
Have an open-plan layout
Airy, spacious, and multipurpose open-concept homes are increasingly becoming more popular among homeowners. That's what contemporary design is all about.
Consider giving completely different personalities to different functional zones to create a bold contrast between them. For instance, match darker walls and wooden fixtures in the kitchen with a bright lounger in the living room to bring in lightness.
The main benefit of an open plan layout is the freedom that you get to use the negative space efficiently. Plus, it creates a sense of spaciousness.
Maximize natural light
Modern spaces aren't small and dark anymore. Light and airy rooms have long replaced them. You can incorporate these aspects in your home design by trying to maximize natural light.
Merge the outdoors with the indoors with outsized glass windows or install sliding glass doors, floor-to-ceiling glazing, skylights, and solar tubes. All these are great ways to increase natural light in your living space.
You can consider translucent glass for privacy areas. The intensity of light can be adjusted by going for the right blinds.
Opt for reflective flooring
The right floor plan can go a long way in determining how modern your space looks. Choosing a reflective flooring option can not only make your living space look sophisticated but also create a brighter interior space.
White tile floors and shiny hardwood flooring are good options. Abandon dark carpets at all costs.
Alternatively, you can choose to install epoxy floor coating like many other modern homeowners. Epoxy surfaces increase visibility in large rooms as the floor reflects light to brighten up the entire room.
Moreover, epoxy flooring is aesthetically pleasing, easy to maintain, slip-resistant, durable, and economical. Consider contacting an epoxy installer to boost the aesthetic value of your living space.
Sustainable materials
Yes, modern homes are all about sustainability. From furniture to walls accents and flooring, try to incorporate natural materials, such as terracotta, bamboo, wood, bricks, and stone.
Natural materials also add warmth to spaces, making them look modern and luxe yet inviting.
The materials used in your surroundings also have a huge impact on your health. While many artificial materials are potentially hazardous to your health, natural materials are a safe option. Researchers say they have beneficial effects on one's physical and mental wellbeing.
Add an element of line
A contemporary interior design is incomplete without the distinctive element of line. It may be horizontal lines, angular, straight vertical, or curved shapes, but lines are obvious in any contemporary-style interior design.
Some examples are using bold color blocks, installing high ceilings, incorporating lines in architectural details, bare windows, and geometric shapes in wall art.
The space on walls, in upper areas, and between furniture pieces can be filled with objects. Remember that when it comes to contemporary-style interiors, less is more. Each segment should stand out distinctly and uniquely.
Texture is important
You may have designed your living space to perfection, but your room will still feel drab unless there is some texture in it. Why? Texture adds visual weight and interest.
In case you add a rough texture, your space will feel warm and grounded. On the other hand, smooth textures add an aloof tone to spaces. The placement of textures is also equally important. If you want a rough object to stand out, place it next to a smooth texture instead of placing them apart.
Wrapping-Up
Designing an open-plan layout, creating light and airy rooms, installing reflective flooring, and using sustainable and natural materials, among the other strategies shared above can contribute to a contemporary-style look.
Remember the 'less is more' principle while designing a modern living space. Each decorative piece added should stand out and add interest to the area.