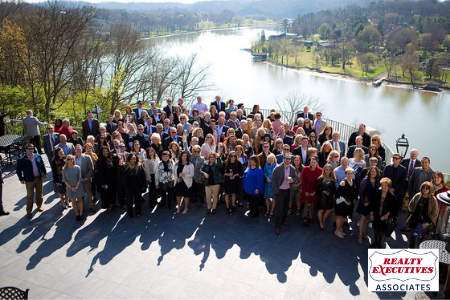 Realty Executives Associates, of Knoxville, TN, is proud to celebrate over 40 years of service and growth in 2021. Throughout the decades, Realty Executives Associates has solidified itself as the #1 brokerage of East Tennessee, through its dedication to global resources mixed with a local approach.
Founded in 1977 by R. Vance Burkey, the brokerage brought the Realty Executives industry's original 100 percent commission model to Knoxville and has now grown to over 700 agents, 13 offices and over 50 employees. Burkey founded the company on the basis of putting agents and their clients first, innovating and cultivating a culture that prides itself on community and providing an unparalleled level of support to not only its agents, but clients as well.
"When I first founded Realty Executives Associates in November 1977, I was convinced that Greater Knoxville could support a large residential real estate company." Burkey said. "I heard about a real estate company in Phoenix, AZ who had over 1,000 agents, operated an office and rendered more to the agent. They were in the process of franchising, so I bought and established an office here. Our tagline at REA was 'only the best can be Executives' and the rest is history." 
Steve Fogarty, Realtor and Broker, became President of Realty Executives Associates in 2007. Through growth, the Associates brokerage has been able to extend its services to include: an elite commercial division, property management, national relocation, and an in-house marketing team providing a full-range of promotional and design services. In 2020, Justin Bailey, fourth generation Realtor and independent broker, became CEO of Realty Executives Associates, with the hopes of continuing the brokerage's success and adding to its multitude of resources and support for various markets. 
"For as long as I can remember, Realty Executives has been a steady presence in the Knoxville real estate market. Vance Burkey created an iconic company. From the micro-recessions of '80 and '90 to the Great Recession of 2008 to now the Pandemic of 2020, this firm has been a pillar of stability- then and now." Bailey, said. "Even after 40 years of continued growth it almost feels like we're just getting started. It is truly an honor to be able to play a small role in continuing the legacy of Vance Burkey and Realty Executives Associates."
Along with many other accolades, Associates has been recognized as the 2020 CityView Best Real Estate Company, 2020 Knox News Favorite Real Estate Company and the overall 62nd largest real estate company in the U.S. by industry publication, RisMedia.
"Associates has been a longstanding example of success in the industry and our network, through their progressive thinking, leadership skills, market expertise and commitment to their clients." Patrick van den Bossche, President of Realty Executives International, said. "We are honored to have them as partners in the Realty Executives network with  their commitment of leadership and best of class performance."
For more information or to speak with the team at Realty Executives Associates, please visit https://www.realtyexecutives.com/office/associates.